Sign


© 2000 Susan Mello

Lamu Cat Clinic, Lamu, Kenya
These photos were taken during our Kotapress photographers' month-long trip to Kenya in April of this year. Kenya always conjured in my mind visions of equatorial landscapes and wild animals only seen by my eyes confined to North American zoos. It is no surprise that preservation is an important issue in Kenya given its divine bounty of awe-inspiring flora and fauna. The animals of my imagination were indeed found in Kenya in the numerous game parks and preserves, especially in the Maasai Mara National Preserve www.masai-mara.com/mmin.htm where the lion photo was taken.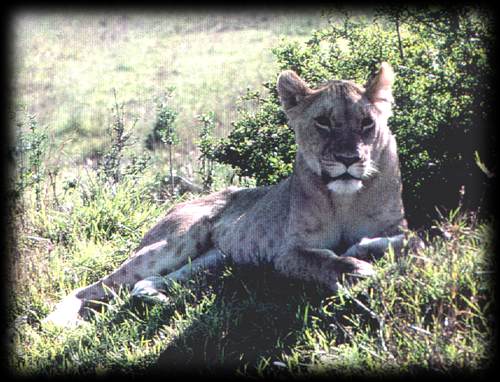 One place we visited is dedicated to raising orphaned elephants. It is the Elephant Orphanage at the Nairobi Game Park, sponsored by the David Sheldrick Wildlife Trust www.sheldrickwildlifetrust.org.  At the time we visited, they were caring for 12 baby elephants. The baby elephants are provided with 24 hour/day care by a team of keepers who teach them the basics of survival and self-care. They are fed formula, brought out to the bush to learn survival techniques, and even sleep with their keepers in stalls at the orphanage. Daily they are brought to a red-dirt mud pit to get muddy and wet - not just for fun but also to keep cool by caking mud on themselves (although they have lots of fun as seen in the photo by Todd Schneider in this issue titled The Elephant Orphanage, Journal page 19, see Contents) .  At age 2-3, they are brought to Tsavo National Park www.kenya-wildlife-service.org/parks.htm where they are introduced and adopted into existing elephant herds. The David Sheldrick Wildlife Trust happily accepts donations to care for orphaned elephants. Among their costs is formula, which is imported from Switzerland. Each baby drinks up to 50 pints per day! 
In Kenya we found other organizations that cared for animals - these include the Lamu Cat Clinic, and the Lamu Donkey Sanctuary. These are found on an island off the coast of Kenya called Lamu. The Lamu Cat Clinic's main goal is to neuter stray cats to stem the increase in population of stray cats on the island, and care for sick cats. When I visited, an operation was ready to be performed and the vet encouraged me to watch as he performed the procedure! I firmly and gratefully declined given my tendency to pass out at the sight of blood. The vet informed me he had spayed 4,000 cats in 7 years! The Clinic accepts donations through it's sponsor, the World Society for the Protection of Animals www.wspa.org.uk/home.html
The Donkey Sanctuary is also in Lamu Town. Donkeys transport goods and people through the narrow corridors of the town. They also walk freely through town, seemingly without owner or job to perform. They are beautiful, strange creatures up close. It pleased me to hear their characteristic braying and complaining through my days on Lamu. The Donkey Sanctuary cares for orphaned and sick donkeys. At the time I visited, there were about 8 young donkeys in the main pen, and one older donkey separated in his own stall who was suffering from malaria. The Donkey Sanctuary in Lamu accepts donations through their sponsor, the International Donkey Protection Trust in the U.K. www.thedonkeysanctuary.org.uk/index.html.  I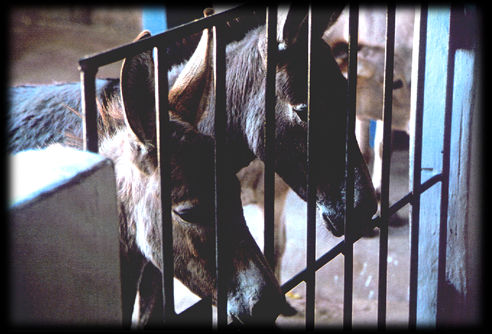 I'm happy to say I have so many more beautiful pictures from Kenya - I also have many stories, and some sound recordings of animals and places in Kenya.  I will be presenting these and other photos on my website which is currently under construction.  If you are interested in viewing it when it is up, please email me at spmello@hotmail.com and I will add you to the mailing list.  Also, please feel free to contact me with questions and comments.  I encourage feedback!  These photos were shot with Kodachrome or Fuji slide film.  Prints of these photos are available by contacting me at spmello@hotmail.com.