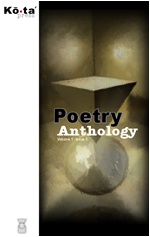 Winners of KotaPress Contest for Vol 1, No 2 are:
Allegra Wong
Joseph Lisowski
Ruth Daigon
Kevin Simmonds
and
Charles Fishman

KotaPress Anthology, Vol. 1, No. 2 featuring the above writers will be released in Spring 2001. All KotaPress authors are invited to read at the KotaPress Reading to be held in Seattle, Washington, April 2001.
Authors from Anthology Vol. 1, No. 1 will read at the KotaPress Reading & Release party here in Seattle, Washington, on Friday, October 20, 2000 at 7pm. For further details, send query email to info@kotapress.com
You, too, could be a winner in the next KotaPress Contest! There are two contests in 2001, and the guidelines are detailed below. You don't need your checkbook to enter! There are no entry nor reading fees, no requirements for SASE, and 5 to 7 winners in each contest. And if you win, you get free copies of the book in which you are published. Don't pass up your chance to participate in our Anthology Contest!
Anthology Contests for 2001 will run as follows:


Feb 14

Spring Equinox Issue 2001

Summer 2001

May 15

Summer Solstice Issue 2001

Winter 2001
Submit 15 to 25 pages of original poetry. You must be the author. These pages should contain the poetry you'd like to see published in the Anthology.

We only take email submissions. Send email to editor@kotapress.com with Word or RTF attachment of your works (please put your name on each page of the manuscript)-- OR you can cut & paste the text into the body of your email. [PLEASE SEND ONLY ONE EMAIL WITH ALL YOUR POEMS IN IT OR ONLY ONE ATTACHMENT WITH ALL YOUR POEMS IN IT! IF YOU INSIST UPON SENDING MULTIPLE EMAILS OR ATTACHMENTS YOUR ENTRY WILL BE DISQUALIFIED!!!!]

MUST put "Submission for Anthology" in the subject line of your email!

Please include a short author bio (25 to 75 words) in the body of your email ONLY-- do not include bio in attachments. This bio will be used in the Anthology if you are chosen.
For each contest, 5 to 7 authors will be published (each one getting 15 to 25 pages of poetry) in the resulting Anthology issue. Winning authors will be notified via email and will be announced in the KotaPress Online Poetry Journal. Winning authors will receive 10 copies of the perfect-bound, Anthology issue in which they are published as payment at the Book Release date.
We will accept previously published poetry as long as the previous publisher is given proper credit. This means you must make it CLEAR to us who we need to credit for which poems. You are responsible for giving us this information. We would prefer that you don't submit simultaneous works since our turn around time is reasonable.
If your works are chosen for the resulting Anthology book, we ask for one time print rights for the print book as well as one time Internet rights plus Internet archive rights. We ask for the print right so that we can publish your works in paper and ink for the Anthology book. We ask for Internet rights so that we can publicize the winners on our website Journal featuring excerpts and reviews. We ask for Internet Archive rights because our Journal issues are archived indefinitely. All rights revert back to the author once the Anthology is released, and we would appreciate proper credit if you publish those works elsewhere in the future. At this time, we have no plans to do second runs of the books; so once the initial run is sold, it's out of print.
Your works will ultimately be "judged" by our in-house editor and an informal panel of poets. We are of the belief that if your work is right for us, it's right for us. If not, then not. We do not believe that hiring and promoting an "academic" poet, "professionally deconstructionist" poet, or "famous" poet to judge would make any difference to the quality of your work. So you will not find us bragging here about who might read your poems. We are working artists just like you who wish to open another venue for publishing hard working artists. Period.
Previous winners for KotaPress Anthology Vol 1, No 1 were Nancy Talley, Sandra Bailey, Carla Griswold, Tim Hulley, Marika Thompson, Dana Gerringer, and Heidi Sauer. Congrats to all of you!