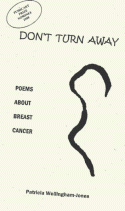 Don't Turn Away
Poems About Breast Cancer
by Patricia Wellingham-Jones
from PWJ Publishing

This collection arrived on my desk at a moment when it was so needed. We had just learned of a friend with breast cancer, and I so wanted to be able to share some poetry with her that might be of some help or comfort or something. "Don't Turn Away" was a 2000 Pushcart Prize Nominee, and deservedly so! What can I say except that you should just get a copy and read it yourself. From Wellingham-Jones' haunting "Suppose the Owl Calls My Name" to the sorrowful "The Catafalque", from the dark humor of "Rosy Nipples" to the longing of "Phantom Itch" -- these poems are insightful, honest, and overwhelming in their clarity. Each piece gives voice to a grief that unfolds on the speakers journey, validates this new and shocking reality she's living. Even in the shortest of poems...
Fatigue Factor
When it came to
washing my hair
or typing poems,
I chose words.
...I found myself honored and grateful that she chose words -- words she's offered up to all of us! Don't miss this collection. And check out the publisher website for more awesome works by Patricia!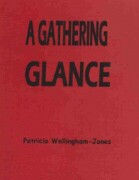 A Gathering Glance
by Patricia Wellingham-Jones
from Lummox Press
Little Red Book series, Vol. 43

This is a great little book with the feel of guerrilla poetry written all over it! It's about 5.5 x 5.5 inches, saddle stitched, with a layout that mirrors the mimiographed days of HOWL! It's WONDERFUL! Not to mention that it is FULL of the most FAB works from Patricia Wellingham-Jones! There is so much wisdom here:
From "Mrs. Coyote" and her ideas that "Poets...must be left undisturbed/to record the unwritten songs..." to "Visit With A Young Bachelor" where a visiting mom in her "newly grown" son's flat sees the mold and algae and still she says, "Not one suggestion/crosses my lips..." and so the boy and his mates grow to "revere" her. All her speakers are such smart cookies!!! And more than that, there are pieces of sorrow, growth, loss, healing, pain, and renewal -- and still a sense of wonder, humor, and openess in this "Gathering Glance" -- well done!
Again, as I always end up feeling about Patricia's work, you don't want to miss this collection. Check out the link above and get your own copy. You'll be delighted.
If you have comments for the reviewer or want to inquire about having your book reviewed, email: info@kotapress.com