Poetry News:

As always there are many announcements from the KotaPress Poetry front. We hope you will find these helpful, and feel free to contact us via email at info@kotapress.com or via phone at 206-251-6706 if you need further information.
»»A Poetry Calendar of sorts: the following is a list compiled by our intern Samantha Mastridge. It is a list of AnnualPoetry Events she found while surfing the web. Check it out -- then do your own research to find out more about what you find interesting!
»» Do you know the business of your art? Most poets don't. Now you can take this Kota class no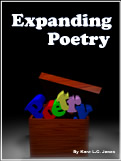 matter where you live and find out what the business of you art looks like.
We'll cover everything from revision to the dreaded poet voice, from self publishing to web publishing and back again. You can register online instantly though our eStore and get started right away. Don't miss out!
Register today! Click here to go to the eStore and then click thru to the Classes!
»»KotaPress has landed on Vashon Island with the following new contact information:
KotaPress
PO Box 514
Vashon, WA 98070
You'll have to remember to keep checking back here for the latest and greatest, or you could just:
»» Check out our free eNewsletter! KotaPress offers an online eNewsletter free upon request. If you wish to subscribe, please email us at info@kotapress.com asking for a subscription. (We do not sell our mailing list to third parties— we will use your address ONLY to contact you directly.)