Editor's Note: We've got two reviews for you this month. Be sure to scroll the whole way through to read both of them...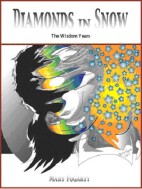 Diamonds In Snow: The Wisdom Years
by Mary Fogarty
From Crones Unlimited
ISBN 0-9700377-4-0
LOC: 2003092908
Retail: $15.95
http://www.cronesunlimited.com/dis.html
This new release from Crones Unlimited is a wonderful collection of poetry, prose, and drawings by Mary Fogarty. From the opening insight...
Slow down. Take the time to listen.
As your skin folds, fingers crook and warts surface
know that your insight grows and
your beauty sparkles.
...all the way to the Itsy-Bitsies on the last pages, Fogarty is sharing the wisdoms she's gathered on her journey. We should all be so lucky to have a mentor or elder or crone in our own lives, to whom we can confess our fears and have them answer as Fogarty does in "In Each - A Crone":
Be Still
Slow down.
Hear memories chant from your bones...
For me this collection sings loudest, strongest, thoroughly most true in the third chapter titled "Death and the Unraveling" -- of course, it would do this for me as I wear the grief tinted glasses of a parent whose child has died. Not only does Fogarty open this section with my all time favorite Emily Dickinson poem, but she also adds her own wisdom:
We achieve states of knowing through small, necessary deaths
--career failures, divorce, loss of a loved one--that become opportunities for rebirth.
Feel the unraveling. Do not resist. Resistance only depletes you further.
Birth your Crone.
Hello?! How helpful would it be to any bereaved parent in anguish to have a mentor Crone look at him or her and say, "Feel the unraveling. Do not resist"!!!! Besides that, Fogarty's work in this section of the book is amazing. She opens it with a four-part piece about 9/11, but it is not one of those shallow "all hail america" pieces. She shows a depth and breath to the reality that is stunning:
...The eyes of a New York mother
waits for news of her sons.
The eyes of an Afghani woman
the same...
Yes, brothers and sisters, grief is grief is grief. In "Unresolved Anger" Fogarty shares a story about how unexpressed feelings and the inability to bond can cut short a life and a love. What is interesting here is that she seems to be telling the old segregated, feminist story of "men vs. women" *but* the key to really gaining the wisdom here is in this one line:
"Whether male or female, our HEARTS and our SOULS yearn for a force greater than "self."
Yes, brothers and sisters, people are people are people -- and our sense of different and the same does not fall along gender lines. And in the end, with the poem "Death a Destination," Fogarty demystifies death for us with a simple shift in perspective that is so very needed in our culture:
...life is a process
and death the destination...
And the entire collection is just full of more of those little miracles. Make sure you check out "E-mails from Earth Mother to Son"! Fogarty's realizations, lessons, playfulness, talents shine through in this collection. Check it out!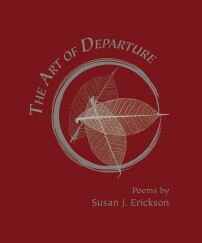 The Art of Departure
by Susan J. Erickson
Egress Studio Press
ISBN 0-9725137-1-X
akboyle@egressstudio.com
$10 Retail (USD)
Wow! First of all, I have to tell you that this book is *beautifully* published with an ingenious binding to give the chapbook a spine, printed on fabulous paper stock, and the layout is gorgeous. Kudos to Egress Studio Press for doing stunning justice to the words of the talented poet, Susan J. Erickson.
Then there's the poetry which is well-crafted and stunning. Ever since Erickson's work came through my e-mailbox here at KotaPress, I have been a fan. But this little collection is really something. From her insightful sense of humor at the start with "Summer Evening In The Skagit Flats" -- which, by the way, I think someone up in Skagit should scoop up as a winning poem for a public arts display like poetry on the bus or something! -- all the way through to absolutely, fall-on-the-floor, cracked-me-up-with-recognition, piece of "The Sisterhood Of The Ruby Red Slippers," Erickson is at the top of her game, her craft! (Can I just tell you that she uses *footnotes* of all things in the Ruby Red Slippers poem -- and even those are funny!?!)
Now I don't mean to say that all is "la-la" funny in this collection, either. Two works in particular carry a solemn, clarity with them. One is call "Against" which we are also featuring this month (Aug 03) in our Loss Journal. This one was written for Erickson's grandson who lived only five hours. Of course, she speaks right to my bereaved mother's heart with this one. And then title piece, "The Art of Departure," seems to speak volumes about our processes of life. You know those days when you wake and wonder why you are still here and how to get through it all. One stanza calls to me the most with her words:
Tell me,
what does it take
to fly resolutely into the blue oblivion
and never for a moment look back?
This just spoke to me of a universal truth, a question all feeling human beings ask at one point or another -- but said in Erickson's own eloquent style. Again, this is another collection that is worth its weight in gold. From content to layout, from style to cover -- *well done*!!!
If you have comments for the reviewer or want to inquire about having your book reviewed, email: info@kotapress.com