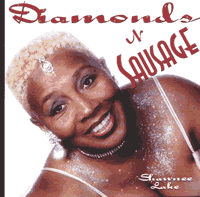 Diamonds n Sausage (Jazz & Blues CD)
No longer in stock - PLEASE SEE Shawneelake.net instead
By Shawnee Lake
Jazz & Blues
CD1


Please see Shawneelake.net!!! If you have any ear at all, even the teeny-tiny-est little-itty-bit of a liking for blues and jazz, YOU MUST OWN THIS ONE! Shawnee Lake, international singing-sensation, brings us this premiere cd after years in the business. The sound of her voice will cure whatever ails you-- promise! More info...