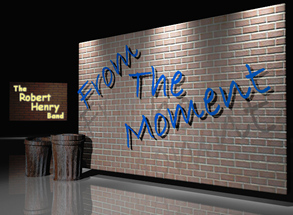 Produced by D.Jedlowski, K.O'Neill,
D.Bjorenson at Audiomation Studios


From the Moment
The Robert Henry Band
no longer in stock
( music cd)
by Darryl Henry Jedlowski - Piano, Keyboards
Keith Robert O'Neill - Bass, Lead Vocal
Roy Campbell - Drums
Joyce O'Neill Voigt - Vocals
Carol O'Neill Schachter - Vocals

Premiere collection from this fabulous East Coast band. The title song From The Moment is so hot that it caught the ears of the producers for Rob Morrow's next film. You have to check out this smooth jazzy sound for yourself to see why the producers chose From The Moment for the soundtrack and why the folks in the East are flocking to see them perform each week!
Playiist
From the Moment
1. Old Friends (4:01)
2. Baby, Won't You Let Me (4:12)
3. From The Moment (3:05)
4. Spiro/Funk (3:38)
5. Commin Up Empty (3:43)
6. Daydream (2:59)
7. Just Like A Child (Runnin Around) (3:15)
8. Sequel To The Dream (2:30)
9. I Won't Let You Go (2:55)
10. Sunshine (2:16)
Band Bio
The Robert Henry Band performs regularly on the East Coast in the northeast area.