This Just In: There are lots of holiday events happening on the Island this year. Seems between trips to the mainland and on-island events, there is more and more every year. This year, I invite your family to a NON-EVENT! Instead of doing something that involves a lot of planning, travel, child care and more, stay home with your family! Rent a movie! Just be together over a cup of hot chocolate! And if you want to do something special, then make a donation as a family to some Island non-profit. Maybe make the donation a memorial gift in honor and memory of someone you love, someone who died too soon for your heart. Consider donating to some place like Vashon Youth & Family Services, Vashon Food Bank, VIPP, WolfTown, Labor of Love for Vashon Community Care Center!!
Would you like to receive our Kota eNewsletter
to keep up with our Vashon Journal?
To Subscribe or Unsubscribe
just click here...
WINTER SOLSTICE LABYRINTH WALK
The Vashon community is invited to a labyrinth walk to celebrate the shortest day of the year, Tuesday, December 21st, and the beginning of more light from 6:00 to 8:00pm at the Episcopal Church on the Vashon Highway. The walk will be accompanied by the Circle of Sound. Bring a flashlight. For more information contact Betty Hawkins 206-463-5062.
~~~
Volunteers for Protection of our Beaches!!
The Dept. of Ecology will sponsor an Oil Spill Awareness and Recognition Training Class at the Firemen's Association Building on Bank Road on Saturday, January 8th from 9:00 a.m. to 4:00 p.m. The class is free for Vashon-Maury residents. This time is also an opportunity for participants to begin to organize as a network of beach observers. This class is offered as a first in a series of future oil spill responder trainings. Please contact Lisa Chambers or Kelli Nichols to register or for more information, evenings at 463-7756/Kelli.Nichols
~~~
Cool columns from Joan McCabe
I got on this cool mailing list from Joan McCabe, and it is just the most inspiring, coolest thing! Here's part of her last note with link to reading the past issues of her eNewsletter:
Everyone I know seems to be in a big period of transition and experiencing a lot of stress. My last issue covered Growth Periods and this issue, Alignment/Agreement is a good follow on. If anyone missed the previous issue, I now have a 'blog' where all the topics are covered! Please visit http://jmmccabe.blogspot.com I'd love to hear your responses!
~~~

Washington MISS Chapter
National Children's Memorial Day - FREE
Stories, music, and candlelighting for support and inspiration... at Cafe Luna on Vashon Island, Sunday, December 12th, 6 to 7pm
VYFS, KotaPress.com, and the WA chapter of the MISS Foundation are partnering for this Vashon event, honoring the national holiday for remembering the 80,000 children who die each year in the U.S. If you are or know of anyone missing a child who has died, please join us for this event. Stories, music, and candlelighting for support and inspiration... Bereaved parents of any gender, race, religion -- ALL -- are welcome. Feel free to bring momentos, photos, memory albums or other touchstones that you might like to display on our "remembrance" table. We'll have some basics available like water, kleenex, and memorial candles available for free. The Cafe will be open for purchases of tea, coffee, or other edibles. This event will host music, a storyteller, a henna artist offering free memorial designs, facilitated computer internet searches for seeking online resources, and an art table in the first half hour or so of the event. The second half hour will be the candlelighting ceremony. If you have any questions or concerns, please feel free to be in touch with us! kara@missfoundation.org Please RSVP by calling VYFS at 463-5511 or by registering online for the event!! Click here
Logo created and graciously donated for use by Swirly Girl!!
Please do not use for any other purpose than NCMD events!!
~~~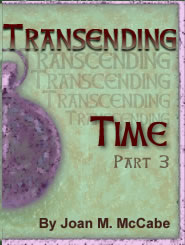 Serial release only at KotaPress!!
Transcending Time, Part 3
Our own Joan M. McCabe has just released Part 3 of her novel, Transcending Time, which is the sequel to Tapestry of Time, and you can only read it here!!!
Click here to read Part 3 of Transcending Time!!!
Part 4 will be posted next month...look for it!!!
For more information about Joan, see www.jmmccabe.com

~~~
Day of the Dead & Halloween follow up...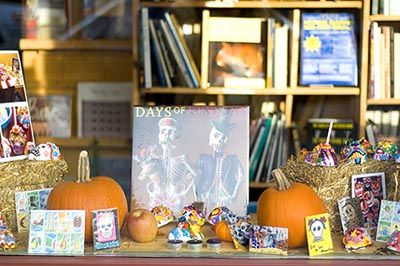 Many Many Many Thanks to Karen at Vashon Bookshop for a FAB Halloween and Day of the Dead!!
(Photo by Hawk Jones)
For this year's Halloween Super Scary Skit Radio Theater night at Vashon Bookshop, Karen let us do up the window for everyone to see all the cool sugar skulls and artist trading cards that were made for Day of the Dead. We even had someone come in and ask if the sugar skulls were for sale!!! Because we hadn't planned to sell them, we said no. BUT we had this idea for next year: What if we all do sugar skulls again and make them for sale at the Bookshop as a fundraiser for the Vashon Food Bank!!!?? So look out! Next year all those artists who did this just for fun, might be on mission with it next year!! :)
~~~
Have Vashon related news, announcements, or art?
Email us and we'll post here in the KotaPress Vashon Journal for you!