> Mrs. Duck for Sponsors
Please note: October 2003 - We have set off on the journey of turning the Mrs. Duck story into a 3D animated film along with documentary and expanded version of the book. To read about the last updates, please click here...
March 2002 - Our Mrs. Duck Project brings on-demand support to bereaved families around the world. This Project now offers free eBook and free Flash animation versions of the book Mrs. Duck and The Woman on this website. Click here to see the free audio Flash animation version of the book.
"I was very moved by Mrs. Duck; what a wonderful gift for not only grieving parents, but for ANYONE who's mourning a loss." -Rev. Joan M. McCabe
The book Mrs. Duck and The Woman is a story about losing a child and surviving the loss. When our baby Dakota died on March 11, 1999, after a full-term and perfectly healthy pregnancy, the doctors and nurses had only phone numbers of grief support groups to offer us. They had no tangible comfort to give. This book Mrs. Duck and The Woman is precisely that "something tangible" we hope to put into the hands of families who must face the death of a baby.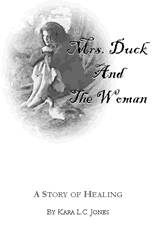 According to the CDC, 39,000 babies are born-still each year in the Unites States alone. This means 4.8 babies die this way each and every hour of each and every day here in the US. We believe Mrs. Duck and The Woman can help these 39,000 grieving familes each year. We hope that institutions & individuals like hospitals, birthing centers, midwives, doctors, funeral homes, and grief support organizations will help us provide the comfort and outreach that bereaved families need after the death of a child by providing copies of Mrs. Duck and The Woman through their work.
Artful, paperback copies of Mrs. Duck and The Woman are available from KotaPress directly at $5 per copy. Alternatively, we are glad to custom make copies for you that will include a printed ad showing your sponsored purchase of the book for $10 per copy. We'll make your sponsorship ad camera-ready free of charge.
We hope you will act today to begin providing support for bereaved families in your area. If we don't reach out to the 39,000 families per year who need this support, who will? We want to work with you to provide this tangible support to the people for whom you care. Contact us today with your order!
To get copies of the artful, paperback version of Mrs. Duck and The Woman from KotaPress directly for $5 per copy, click here...
- For families.
This version of the book is meant for Sponsors such as florists, funeral homes, hospitals, midwives, doctors, and other care givers. This version offers you the chance to show your support for the Mrs. Duck Project and our outreach. You have the opportunity here to include your logo or ad inside each copy you purchase.
To show your support of our Mrs. Duck and Kota work, to show your clients and patients that you are in the business of providing tangible care to them, please click below to order your Sponsored copies of the Mrs. Duck and the Woman book today! For $10 per copy, you'll get custom made copies of the book that include your print ad showing your support for this awareness and bereavement work. And we'll even make your ad camera-ready for free! Click here...
- For Businesses and Support Organizations
We'd like to thank our most recent Sponsors:
Nanna-Memmo
All the performers & attendees of WORDS: live at the Blue Heron
Katie Smith, Neo Fight Organization, IN
Taffy Todd, Friend of Mrs. Duck member
Nancy & Peter Grayson, in memory of Joel
Souvenir
Nicole Vandermeulen, Proprietor, Camelion Design
David Harris, Owner, The Other Coast Cafe
Dr. Mark D. Balter, O.D., Northwest Vision Clinic
Micah's Memory Garden
ChildLoss.com
SeattleM.I.S.S.
National M.I.S.S.
Dr. Michael Fuhrman
Dr. Pat Rodrigues at Meridian Women's Health
The Amazing Anonymous
Please email Kara Jones at ladyh@kotapress.com for more information.