: Fundraisers
While KotaPress is not a non-profit proper, our umbrella organization SeattleMISS is a 501(c)3. If you would like to make a PayPal donation here and get a non-profit donation receipt, please make a note in your payment. Donations to our umbrella provide support for the Mrs. Duck Kindness Project providing free grief support and books to bereaved families around the world. Know that 10% of your donation will go toward medical research about the prevention of cord accidents and toward the Seattle chapter of MISS which provides free monthly support meetings and outreach to bereaved parents. The balance of your donation will support Mrs. Duck! It takes $10 to provide one support package to bereaved families. 39,000 families in the U.S. alone suffer thru stillbirth each year-- that 39,000 families we'd like to be reaching. Please help us reach them all!
Starting Winter 2000, On-going
Want yet another way to support SeattleMISS? Just buy your favorite products at our new online shopping village -- at no extra cost to you or us -- at http://www.greatergood.com/partner/misschildren-wa. Up to 15% of your purchases go directly to SeattleM.I.S.S which in turn supports grieving families around the world. SeattleMISS shopping village includes brand name items from more than 100 leading online retailers like Amazon.comŽ, Dell.com, ToysRUs.com, L.L. Bean, 1-800-FLOWERS.com(SM), OfficeMax.com and more. You don't pay more to buy things online. And your security and privacy are rigorously safeguarded. Ready to do a little shopping? Visit the SeattleMISS/GreaterGood web site at www.greatergood.com/partner/misschildren-wa, click the "Shop" button and off you go. What's more, if you register at SeattleMISS shopping village, you'll receive a great bonus from one of our retailers. Do it today and make your online shopping really count!
Starting Summer 2000, On-going
We have another way for you to support the Mrs. Duck Project. 10% of any purchase you make from Mary Kay representative Bonnie Hallock will be put toward the Mrs. Duck Project! We are so honored to have this generosity from Bonnie, and we wanted all of you to know how to participate. Go to Bonnie's Mary Kay site at www.mymk.com/bhallock and order away-- IMPORTANT: There is a place on the online order form to put a message, and you must put KOTAPRESS in there so she knows it's a Mrs. Duck order. Bonnie can take check or money order for any amount, and she can take Visa/MC for orders over $60. She can also take PayPal.com for orders. If you have further questions, feel free to send her an email from her site at www.mymk.com/bhallock. (In the spirit of fairness, Bonnie can only accept orders from patrons who do not currently have a Mary Kay Independent Beauty Consultant. Thank you for understanding.). Please note that, although KotaPress is not a registered 501(c)3 non-profit organization, your gift for Mrs. Duck will be made via umbrella 501(c)3 organization SeattleM.I.S.S. Please contact us for more info.



April 2000, SeattleM.I.S.S./KotaPress Raffle
KotaPress held a poetry reading in April 2000 in Seattle, WA, featuring the works of Nancy Talley, Elizabeth Grey, and many KotaPress Journal authors. For the price of admission, each person attending got a numbered ticket that was put into a hat. At the end of the night, we picked a ticket and the winning ticket holder went home with a huge, beautiful, full bread basket donated by Great Harvest Bread Company (the one on Market Street in Ballard, owned by Crystal and Bob!).
Of the money raised, 10% went to National M.I.S.S. in support of medical research discovering how to save babies at risk of dying from stillbirth, 10% was put into the general fund of SeattleM.I.S.S. chapter, and 80% was put toward SeattleM.I.S.S. Sponsorship of Mrs. Duck and The Woman. KotaPress was able to deliver 50 copies of the Mrs. Duck book to the National M.I.S.S. Conference held in June 2000, and those copies were distributed for free to grieving families around the world thru the local chapter offices of M.I.S.S.
Look for another raffle in October 2000-- there will be at least 5 prizes available for that fundraiser, including another amazing Great Harvest basket!
February 2000, Handmade Candles Fundraiser
AmyJay helped us all learn how to make some really cool candles. It was quite an event to discover how to handle hot wax, how to make layered candles, and how much fun it is to pound sheets of wax into chunks using a hammer and a towel! (The pounding was Kara's favorite part...) It was amazing to see the wax melt so quickly, and sometimes it was really difficult to tie the wick in a knot at the bottom of the mold.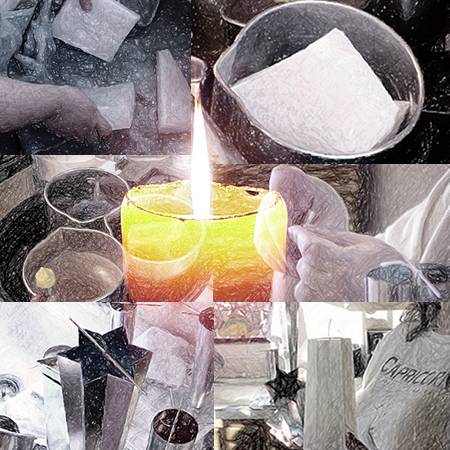 The results speak for themselves. It's hard to explain how wonderful it was to pull the first candles from their molds. It was just downright fun!
Our family and friends have all enjoyed the fruits of this labor, and we spent a day at the Fremont Market selling our wares there, too.
And we are glad to tell you that you haven't missed your chance yet! We still have candles of all shapes, sizes, and colors available from $7 to $20. Buy a candle today for yourself or someone you love, and help us to continue offering M.I.S.S. support for free to grieving families in our community.
Again we thank Pourette, Inc. (www.pourette.com), KotaPress (www.kotapress.com), Ballard QFC grocery store, and Amy Jay for making this fundraiser possible!
Contact Kara at ladyh@kotapress.com or call 206-297-1012 to get order information.
Part of the proceeds go to the Pregnancy Institute to support research, and part goes toward the local chapter itself.
January 2000, Gift Bag Fundraiser
We would like to thank Crystal and Bob at the Ballard Great Harvest Bread Co. for all their amazing help with the Valentine Gift Bags. We also thank the Ballard Seattle's Best Coffee and the Safeway for their contributions to the bags. And we'd like to thank all of you who purchased Gift Bags! We're glad to hear that you all enjoyed the Dakota bread so much!
As a result of all your support, SeattleMISS has been able to Sponsor 50 copies of the KotaPress book Mrs. Duck and The Woman that will be given free to grieving families!
Part of the proceeds went to the Pregnancy Institute to support research, and part to the local chapter itself.