MISS Children's Memorial Golf Tournament
and Butterflies Memorial Garden!!
from MISS National
Tell all your friends! Join us for Golf or Participate in our Field of Butterflies Memorial Garden! Join us for the 4th annual Children's Memorial Golf Tournament and Field of Butterflies to benefit the MISS Foundation.
"Your foundation helped us in more ways that I could express...you helped us and our children after our son died and we could never say thank you enough!" Bereaved Mom
For more information or to register: http://www.missfoundation.org/golf/index.html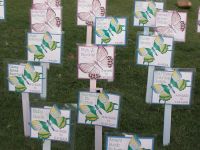 Don't forget to buy your "butterfly" in honor of your special child/children for only a $15.00 donation or in honor of a child you love! Order your butterfly here:
http://www.missfoundation.org/golf/butterflyorder.html
Thank you for your support of the MISS Foundation! We are committed to helping provide emotional and psychological support to grieving children and families after the death of a child; community policy and advocacy; education and risk reduction; and financial aid to low income families. There is no greater tragedy than the death of a child...please help us help others.
ALSO: SAVE THE DATE
Please put the MISS Foundation 2005 Passages Conference on your schedule for May 26-29, 2005. Keynote presenters include Vanessa Gorman, film producer of HBO featured documentary, "Losing Layla," and Dr. Peter Barr, Australia physician and bereaved father, feature in the PBS Documentary, "Some Babies Die." For more information about the 2005 Gathering, please click here to get the PDF version of the Conference brochure & registration or email inquiries to: info@missfoundation.org.