From Rabuor, Kenya
article & photos by Amanda Koster
Loss. Kara graciously asked me to write about my experience in Rabuor, Kenya for her online publication. I was there on assignment documenting through video, stills and words, what exactly 11 million AIDS orphans really looks like, feels like.
What did that feel like? It is really hard for me to go there without fighting off tears and gulping down one of the biggest sobs I may ever face.
Ever.
What was I doing? I was in Rabuor Kenya, which is on the north east coast of lake Victoria, western Kenya. I was about 20 miles outside of Kisumu, the 3rd largest city in Kenya. Though I was near such a city I was miles away from anything familiar. I was without a doubt in an entirely different universe.
I arrived March 19, 2004 and worked non-stop until March 23. Working non-stop kept me from thinking about what I was witnessing.
What was it that I was digesting, besides the smorgasbord of food that was laid out on a table at the end of every emotionally damaging day of documenting heart-wrenching situations? Maybe the food was there for me to forget what the hell I just saw. The feast really drove it in that this is not my reality, I am just a documnetarian, collecting stories and regurgitating them in a shiner more subtle package, i.e., "you make things so approachable", that's why I get hired to do this kind of work.
This trip was very hard. I am about to tell you why but before that I want you to know that we have absolutely no idea what is going on out there in the world until we go there. I can tell people the hell that I saw in Kenya and 3 minutes later I can make them cry and after 8 minutes they ask me to stop or ask where can they send money. Watch the video when its edited, come to the exhibition when it's up this year, but man, go see for yourself. Or don't, because I am not sure everyone has the stomach for this. It still won't touch being there.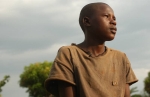 Left: Caxton, age 14
Photo by Amanda Koster
So Rabuor. I won't give a minute by minute but I will tell you about Caxton, his family and then Brian. Then there was a glimpse of the dying man in the advance stages of HIV/AIDS, he officially had AIDS and was just trying to get through his last days. Peeking in his crumbing mud hut made me gag. Seeing how he was spending the rest of his short life.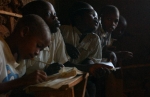 Right: Brian at school
Photo by Amanda Koster

I will never forget his expression when I walked up. That smile, someone new was here to visit him. I don't speak Luo, his language, but I could read his eyes. It was good to give him a different kind of day, though I was terrified to be near him. Furious at the world for letting things get this way. That people actually live and look this way. I wanted through osmosis to transmit as much love as I could. We have no idea.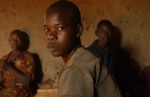 So Caxton (14), Vincent (12) and Irene (9). Their parents died of AIDS, aunts and uncles; grandparents and younger sister have all died. They have... Nothing. Well, they have each other.


Above: Caxton and family (Irene left, Vincent right)
Photo by Amanda Koster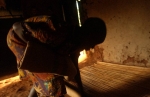 When Ochien'g (my translator and overall right hand man) and I arrived at Caxton's house at 6:45am, we found him waking up. He, Vincent and Irene were crawling out of bed, which meant standing up from a straw mat covered by a curtain on a crumbling mud floor, surrounded by crumbling mud walls.



Above: Irene (9) making 'bed',
putting away the straw mat and curtain
Photo by Amanda Koster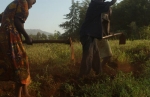 Right: Irene (9), Vincent (12) and Caxton (14)
work in the shamba before school on an empty stomach.
Photo by Amanda Koster

It wasn't the condition of their house that did it, it wasn't the bone-dry pots and pans that did it, and it wasn't really the fact that their home was completely empty except for the straw sleeping mat and curtain. What really affected me the most, and what is still difficult to think about, was not seeing any parents anywhere. Seeing the kids walk over their parents graves on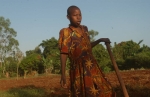 their way to school. Not seeing one adult figure as they woke, worked, washed and headed off to school. No one to kiss them goodbye, no one to say good morning, no hugs, no humming, not even a warm cup of chai like I just drank 20 minutes before.
Left: Irene stops for a breath form her work in the shamba (farm) in the morning, before school, on an empty stomach.
Photo by Amanda Koster

I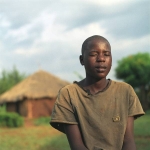 was interviewing Caxton and watching his eyes scan in every direction. He was nervous. Maybe because of the interview, although I have never seen eyes move like that. He was jittery inside but his body was still. Maybe Caxton was nervous about everything. Nervous about later that day, tomorrow, next year. There was no time to play in between working on his shamba for eventual cash, someone else's shamba for immediate food, going to school every day, and then having enough strength to do his homework by the moonlight when there was no oil for their one paraffin lamp.
Right: Caxton
Photo by Amanda Koster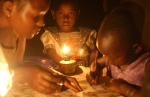 Left: Millicent helping her daughters at night with homework, with the light from a paraffin lamp. About 3% of Rabuor has electricity.
Photo by Amanda Koster

There were so many more interviews. I saw and heard what this epidemic really feels like, one person at a time. I listened to Millicent talk about how the first man she was ever with, her husband, ended up working in Nairobi and most likely infected herself and, consequently, her daughter through birth before dying himself of AIDS. I saw an orphan named Brian wake up on a deteriorated foam mattress and robotically go work in the shamba, then to school where he listened
attentively. I nearly collapsed from the emotional blow when he gave me a big wave goodbye as I packed up my cameras. I sat in an office with Caxton's headmaster discussing the effect that his outside responsibilities were had on his schoolwork, how he is now falling behind. I listed to Caxton tell me with intense determination and an empty stomach that he really wants to change the stigma of AIDS orphans in Africa.
Right: Millicent, mother of 2 and AIDS widow,
most likely her and her daughter are infected.
Photo by Amanda Koster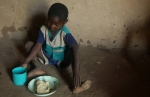 Left: Brian eating at home
Photo by Amanda Koster
Then there was Brian. Brian is around 5 (no one knows) and the sweetest boy in the world. I just wanted to scoop him up and give him every single thing that our Americans kids don't even know they have, things they wouldn't even miss. Like breakfast. I wanted to give him as much love as I could find from deep inside my soul. This child lived with his 68-year-old grandmother. His parents are dead; there are no aunts and uncles. He wakes up in the morning, like Caxton and his family and on an empty stomach goes and works hard in the shamba, really hard. He picked up a hoe that was taller than him and ripped up the earth, before school. Needless to say that had the same effect on my heart and I just swallowed that big sob again and kept filming. He has no idea that there is a place where children don't have to do this.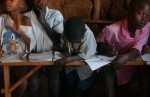 Right: Brian at school
Photo by Amanda Koster

Then Brian rinses his face hands and feet in murky water, gathers his exercise book and bag and waits for me to pack up. We walked to school together and he was practically skipping. On an empty stomach. Again, I was swallowing my tears. We just have so much to learn.
There is so much more to write about. The graves. They don't use gravestones because it is too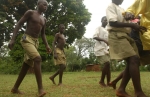 depressing and quite frankly, there is not enough room. Graves are people's lawn; they are walking, playing sitting weeping over them every day. This has to stop.
Left: Caxton (left) and friends playing football over the graves in the yard.
Photo by Amanda Koster

This region in Kenya was hit hardest by HIV/AIDS. And this tribe, Luo, is fighting this disease that is fighting just as hard to kill them.
There is also no describing the mighty strength that I saw. These people won't give up. Even though some of the widows I spoke to know they were infected they would say, "That doesn't mean I am going to die tomorrow". The widows and children would work hard and go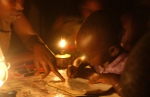 about their day, even laugh about nonsensical things, like this wacky white woman that really had no idea what she was in for. They also would tear up when they told me their story or mentioned their husbands. I held back the tears with them.
Right: Millicent helping her daughters at night with homework,
with the light from a paraffin lamp. About 3% of Rabuor has electricity.
Photo by Amanda Koster
I had a swarm of photo assignments waiting for me when I returned to America. On one shoot a woman asked me about my tan and then cried within 2 minutes after I told her about Rabuor. She was deathly silent and really fought the tears. She wiped her eyes several times as I rambled on, my words not flowing but spewing out of me, blast by blast like we were there, like I was reporting.
Reporting. That is how I have been dealing with what I saw. It has been much easier to tell people what I learned from those interviews, from those kids rather than for me to just quietly sit and think about what the hell just happened. I tried that once and didn't just cry. I moaned like a girl who lost her mother, who lost any idea of what is good and fair and joyful in this world. I didn't scream, I just felt just a very deep sadness. It makes me wonder where the hell is justice. Not political not religious, just basic sense. None of what I saw makes any sense. From the deepest organ, vein, capillary, breath, drop of blood, electric synapse, every singe piece of my life was sad the moment I decided to stop and think about what the hell just happened.
Believe it or not this helps, thinking that you know a little more now.
More about Rabuor
Rabuor Village Project - www.rabuorvillage.org
More about the Author & Photographer
Amanda Koster - www.amandakoster.com