Jizo Remembrance Ceremony
from Great Vow Zen Monastery
What: A Ceremony of Remembrance for Children Who Have Died
When: Saturdays, May 29 and August 28, 2004, 2pm
Where: At Great Vow Zen Monastery, Clatskanie, Oregon
This event is open and free to anyone who has lost an infant or child of any age.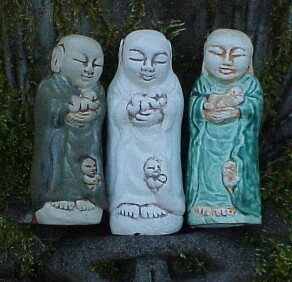 Jizo images to the right are
designed by Jan Chozen Bays, Roshi, and
handmade at the Great Vow Zen Monastery
The loss of an infant or child often opens a well of profound grief. No matter how the child dies, suddenly or slowly, whether through illness, sudden infant death, accident, miscarriage, abortion or suicide, our sorrow is deep and may be long-lasting.
The purpose of the ceremony is to help families and friends with their grief by honoring their lost children and to allowing them to leave a remembrance in our Jizo Bodhisattva garden. In traditional Buddhist belief, a bodhisattva is an enlightened being who has forsaken entry into nirvana until all beings are saved. Jizo Bodhisattva is regarded as a caretaker of women, travelers, and children who have died. The ceremony is very simple, and done in silence. While it is a Buddhist ceremony, it is open to anyone of any religious affiliation.
We will spend time making a personal memorial for our child, by writing a message, making a simple toy or necklace, or sewing a small garment. There will be materials available, but you may wish to bring scissors, thread and needle and a small piece of red cloth. Many people also bring a picture of the child or other personal token of remembrance.
Great Vow Zen Monastery is located at 79640 Quincy-Mayger Rd, Clatskanie, Oregon (about a 75-minute drive from Portland), on 20 very peaceful acres overlooking the Clatskanie valley with the Columbia River and Washington in the distance.)
Give us a call or visit www.greatvow.org/Contact.html for driving directions.
For more information, directions, and to let us know you will be attending, please contact us at registrar@greatvow.org or 503-728-0654.
Led by Jan Chozen Bays, MD
Spiritual Director of the Monastery
Contacting the Monastery
Great Vow Zen Monastery
www.greatvow.org
503-728-0654
PO Box 368
Clatskanie OR 97016