bodyBODY Interview
Q & A with Vanessa McGrady, Kristal Thomas, Amanda Koster, and Kathlyn Albright by Kara L.C. Jones
Editor's Note: bodyBody is an amazing multi-media play that ran here in Seattle in August 2003. I had the opportunity to see it and, of course, from my bereaved-parent-point-of-view, I completely connected with the portion of the play about miscarriage. It was overwhelming to hear public voice be given to the depth of loss and the alteration of body image as a result! And the play was so much more than that, too. To try and share the powerful voice of the play with our readers, I interviewed Vanessa McGrady, the writer & producer; Kristal Thomas, actress in the lead role of Eve; Amanda Koster, the photographer; and Kathlyn Albright, the filmmaker. What follows is the Q&A that resulted from our interactions.

Kara: So in the play and in the publicity it is said that bodyBODY: Aphrodite Raves is a cross between "Vagina Monologues" and "Saturday Night Live" -- please explain further!?
Vanessa [McGrady, writer & producer]: It's not a traditional play with three acts, instead, it's several scenes with a throughline. They're quick and funny like Saturday Night Live, but also deal with some very heavy issues and poignant stories, like Vagina Monologues.
Kara: How did you come to write a play all about bodies?
Vanessa: I began my own body-image tailspin after a boyfriend told me I was fat, and I began to despise my body and see it through this awful lens. When I heard that Amanda was taking pictures at the Take Back Our Bodies shoot organized by a lovely woman named Sandra Marchese, I wanted to be a part of it because I knew I needed to change my perception of myself. I wrote a story about it that ran in the Seattle Times, and got an incredible response from people. Amanda and I decided to keep going with this, so I started interviewing women and men about the body-image problem. I then invited Kathlyn Albright to make a film. I took the stories I'd collected, wove them with my own, and made a play. That play now intersects with Amanda's photographs and Kathlyn's film.
Kara: A part of the show is about the main character Eve having a miscarriage and how her body image changes, how her boyfriend reacts to her body physically, how her image of motherhood changes, etc. You mentioned to me previously that some of this was about your own experience with a miscarriage. Would you share a little with us about your experience, about writing it into the play, about seeing that part of the show when it is staged?
Vanessa: I was 11 weeks pregnant and putting on a tight pair of jeans. My blood ran cold when my boyfriend (the same one who called me fat) said "good girl" as I zipped them up. I felt very alone in that relationship during the pregnancy, and even more alone after the miscarriage. It also made me realize that how your body looks is so much less important than how it works. Like Eve says in her scene, "I would have given anything not to be able to zip up my jeans, to bust out of my bra, to fill out my overalls like those proud pregnant ladies walking around the lake." I wrote those lines and have watched Kristal perform them dozens of times, and she make me cry with every single rendition. She is such a sensitive, intuitive and powerful person that she carries it off exactly the way I hear it in my head.
Kara: Can you tell us a little about how playing Eve has felt, giving voice to pregnancy loss in this way in the play?
Kristal [Thomas, actress playing lead role of Eve]: Playing Eve has been very powerful for me personally. I dated a guy for three years who wanted me to be a perfect trophy. So I received many comments such as Peter's in our relationship and that is what makes this scene so powerful for me. As for the loss of a child; I also miscarried a child from this relationship. However, I was much too young to have a child and so was actually somewhat relieved to be released from the pregnancy. But the subsequent verbal abuse from the aforementioned boyfriend made it a very terrible experience in my life. All of these things feel much less significant after performing in bodyBody. Eve has been a definite catalyst in my own growth and learning. In the past two years I have spent a lot of time trying to mend my very fractured image of myself and who I should be. It feels as though this play has helped me to take one of the final steps in healing.
Kara: Has there been an audience reaction to the subject matter of pregnancy loss being included in the play?
Vanessa: After that scene in the play, there is silence. I always know we've had an effect when I hear sniffling throughout the room.
Kara: How did you all connect - the writer, the photographer, the video filmmaker, the director? How closely did you all work with each other to create the multimedia production of bodyBODY?
Vanessa: I had known Amanda socially and we had been in the same magazines, she as a photographer, me as a writer. I worked with Kathlyn at the Seattle International Film Festival and knew she was a filmmaker, and she contacted me after the story ran in the Times. We worked closely in the beginning, all of at the gathering with women who got interviewed and photographed. As the project came on, we all worked on our separate pieces, and then, toward the end, came together to integrate them.
Amanda [Koster, the photographer]: I was working on this subject with Sandra Marchese. We had a call out to women all over Seattle to pose nude and write about their bodies in the name of women's body image issues. We had planed to exhibit the work with the words (what is hanging now in Theatre Off Jackson) and then catapult the images/words/message out into the world to kind of retaliate what we see and hear and tolerate now. I told Vanessa about the event and she offered to pose and then wrote about it for the Seattle Times. The work had been published in several magazines and was in several group exhibitions as well, the project was gaining interest and momentum. The Seattle Times story along with other publications end exhibitions received such a huge response that we decided to take it further.
Kathlyn [Albright, the filmmaker]: I worked with Vanessa at the Seattle International Film Festival in 2001. A while after the festival was over, I was sitting reading the newspaper one morning and happened on this article about a photography project that had been done in a big warehouse space. It was called 'Take Back Our Bodies,' and brought together all kinds of women to pose, some nude and some not, for a professional photographer, with the idea of exhibiting the photos and making a effort to expand our very narrow definition of feminine beauty. This wasn't an issue I had really thought about much, except struggling with my own body issues, but I thought the article was interesting and the photos in the paper were gorgeous. I got curious about who wrote the article, and it turned out to be Vanessa. I was thrilled for her, getting an article like that in the paper, so I emailed her congratulating her, and she emailed me back, telling me she wanted to do another project along these lines, and she wanted to have a documentary/video element to it, and would I be interested in participating, or did I know anyone who would be. Of course I said I would do it. Serendipitously, it turned out that I knew Amanda as well, that I had taken a class from her. This project has a lot of that in it - timing and connections that are almost eerie. There's been so much help, and so much has come together, it's like being told emphatically by something outside the three of us 'you're on the right track. You're doing the right thing.' There's been so much support.
Kara: How are people reacting to the show? Have you gotten feedback from people -- not necessarily reviews from critics and all -- but response from individuals? Are they sticking around after the show to talk? Are they emailing you? What kind of responses are they having?
Vanessa: People love the show. They have called it life-changing and funny and something to think about. They want more. What surprises me is that people are bringing their kids, and having very good reactions, I thought it might be too adult, but no complaints so far.
Kristal: Many people have identified with me through Eve and have approached me after the show. I have not only answered questions about my own journey but helped others (friends & strangers) with their own. Some of the most powerful actually coming from men. One male actually turned to his sister after the show and apologized to her for everything he had ever said to her to contribute to her own negative body image.
Amanda: As far as the photo element I have received such incredible responses. Many women have approached me wanting to pose for the next shoot, many women came up to me after seeing the contact sheets and hearing about the shoot telling me their stories. I have witnessed an array of emotional responses from tears to laughter to silence, etc....
The work has been very well received. People like how accessible the images are and remark on the variety of bodes there are out there. One man told me that he never realized the variety of shapes women come it. That he knows knew his wife's body, a few old girlfriends and magazines. This was the first time he really saw what so many women looked like. People have also appreciated that the photos are not 'a freak show' (as someone told me" that they were comfortable looking at the women.
Lastly folks have commented on how nice it was to absorb the images before the play. They felt it was a good way to get started with experiencing the whole project. It was a silent experience for them, they could pace themselves and their personal reaction, read the quotes and facts and it build a foundation for what all that they were going to experience that night. People are silent when the photos are up on the screen during the play.
Kathlyn: I'm amazed at people's reactions, especially by men. I'm so touched to hear them start to talk about some of this stuff. I'm amazed at the conversations I've had with my friends and my family - people who I thought I knew - if it does nothing else, this show is breaking open completely new conversations and helping me form new ways of thinking.
No one has emailed me directly, but Vanessa has been forwarding email to us from people who contact her. There was one recently, from a father who thanked us for opening up a conversation with his daughter. And I thought 'my god. How frightening to be a parent, to suddenly know about this thing that we all face, the kind of thing that you would want to protect your children from at all costs.' And at the same time I know that the first step toward solving some of these problems is for people to start talking, start listening so they can start understanding. And I think that understanding between parents and children is just so key. In interview after interview I heard women saying 'I know my parents loved me but...' and then they'd recall some thing that one of them said or did that impacted the way they see themselves now. I have that too. So to get this note from a parent was just really wonderful. It made me feel like I was doing something really good and really worthwhile, for someone other than just myself.
Kara: Was the Seattle run the first showing? Will it run in other cities?
Vanessa: The Seattle Run at the Theater Off Jackson from Aug. 7-24 was the premiere, we'll come back here and then go into other cities, if all goes according to plan.
Kara: How are you feeling about all this -- the show, the response, the plans for the future? What are the plans for the show's future?
Vanessa: I am touched and overwhelmed and feel like we made something beautiful. Just that people are talking and thinking about these issues means we've done our job. I would like to take this show on tour, and for the next installation, do something specifically for teen-agers and the schools.
Amanda: I feel, of course, wonderful about this. I am learning so much about people and this issue. So many people come up and tell me their stories, so many people are affected. I feel like I want it to continue, become a book, more shoots, more plays more of everything. It is remarkable how many people can identify with all of this. I am also learning a lot about myself and where my own body image issues stem from.
There is the sparkling feeling I get from this, and then there is dark side. When I was photographing, printing, framing, hanging and viewing this show I couldn't stop thinking about gravestones and prisons. I kept dreaming of myself hanging gravestones above all of these images for all of the women that are living in hell right now, living with bulimia and anorexia, depression.... dying of it. Women that are being assaulted sexually, physically and emotionally, women's whose bodies are being abused in one way or the other, by families, lovers, media, friends, themselves (all of which leads to negative body image-not just media).
I know because I have survived sexual, physical abuse and eating disorders. I know these women (people) are out there, I know they are at the show and reading the reviews, looking at the photographs, laughing when Eve laughs, crying when she cries. I just want them to hear us and know that they are not alone and I hope they survive this too.
So, I feel like I have accomplished something great and also feel like this needs to get out there more, grow more. This needs to reach more people. But, (sitting back and finally breathing) it is great as an artist to combine my mission and talents, and then rally reach people. THAT is a beautiful thing.
Kathlyn: I am hoping to continue with more of this, because I think we've just gotten started. Getting the response we've gotten, I just can't imagine not continuing on and branching out and deepening. It's almost out of our hands at this point. I don't really feel like this show belongs to me anymore - it belongs to all those women that helped us shape it and everyone who's taken it in. At one point, a low for me during production, when I was full of self-doubt, Amanda said to me 'you know, the important thing here isn't that we're perfect, it's that we touch someone, that we give someone something to think about, and we've already done that. We do that every time we just talk about the project.' And I knew she was right. It's like we planted a seed - and the resulting plant is just amazing. I never thought it would be this big, this complicated or this lovely.
For more about bodyBODY: Aphrodite Raves
www.bodybodyproject.com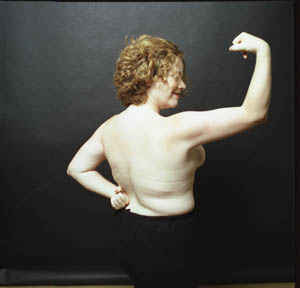 Photo by Amanda Koster