Book Review
by Katie Smith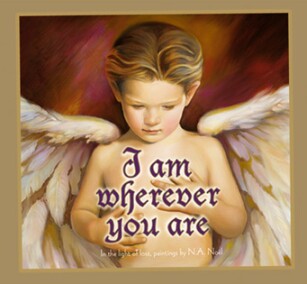 "I Am Wherever You Are"
By Nancy Noel
ISBN 0965253147
$23.95
Available at NancyNoel.com

This book is a beautiful gift to honor the children we have lost. The sweet and sentimental sayings throughout the book along with the imagery from Nancy's artwork of angels warms me from the inside and out like a giant bear hug. My favorite quote in 'I Am Wherever You Are' brings me loving thoughts of my son, Charles. The quote is by William Shakespeare, "Good night, sweet prince: And flights of angels sing thee to thy rest ... " This glorious book personally helped offer me some sort of comfort during difficult times. It's been about three years since my Mom gave me this book, and I still read it and take it on road trips to enjoy.
I recommend this book to all parents that have lost a child at any age.

The book does mention God in some of the quotes, which may even offer more comfort to those with a strong religious faith. In my own opinion, the book doesn't cater to a specific religion. It definitely caters to those that are grieving. One of the many topics Nancy and I discussed during our conversation was her faith and spirituality with God. She and I both have a lot of the same beliefs in that God is not one that punishes or judges. He loves all and forgives all.
For more information on any of Nancy's work, call 1-800-444-6635 or visit her official web site at:
http://www.nanoel.com.

Thank you, Nancy, for creating this book for bereaved parents!
No amount of words can possibly describe how much I treasure this book and adore your beautiful works of art. You are such an inspiration to many!
Reviewer Biography
Katie Smith is co-editor of KotaPress Loss Journal, active member of Neo Fight, co-founder of IN MISS Chapter, bereaved mommy to Charles, and so much more!