Art Show in Memory of Allen
by Kara L.C. Jones
What: Art Show featuring paintings by Devon Meyer
When: Friday, September 6, 2002, 7-9 p.m.
Where: ICON Studio, 1205 W Pierce Street, Phoenix, AZ 85007, Phone: 602 253 8884
Why: A show in memory of Allen Robert Curtis
More Info: www.angelfire.com/art2/devonmeyer

"Through the death of Allen and other recent tragedies, I came upon the stark realization that those you love and life itself is truly a special gift. Through this show, I attempt to capture the moments in life that we so often take for granted. A child's perspective, so fresh and new, helps us to see things we no longer notice or don't stop to appreciate. Allen's short life helped me realize each moment is precious, and life is not to be taken for granted. Perhaps something good can be learned from something so tragic." -Devon Meyer
This is such an exciting show to share with all of you! Not only is it another tangible proof of how the deaths of our children have long term effects/affects on families, friends, and whole communities -- but it is also a fund and awareness raiser for the MISS Foundation. *And* one of the paintings happens to incorporate a poem that my own mom, Dakota's Nanna-Memoo, wrote during the MISS Conference this past May.
I wrote about the Conference here at KotaPress in June, and that same article ran in the MISS Foundation Newsletter, too. At the end of the article I featured my mom's poem which was dedicated to the memory of my son Dakota who died at birth. Nanna-Memoo's real name is Beryle L. Greenwald, and she's a FAB mom and Nanna! And she writes great poetry :) *SO* when Laura Curtis, Allen's mom, saw the poem, she shared it with her friend Devon. Allen's death had profoundly changed Laura's life and consequently the lives of her friends and family -- Devon being one of those people.
Devon had been painting with hope of having a show in memory of Allen, to honor his life and death, to honor his mother's grief and healing. And in the middle of that Laura shared Nanna-Memoo's poem with Devon who then painted the most beautiful piece, making manifest the vision of the poem. And then Devon and Laura contacted us here at KotaPress, and I just went ga-ga!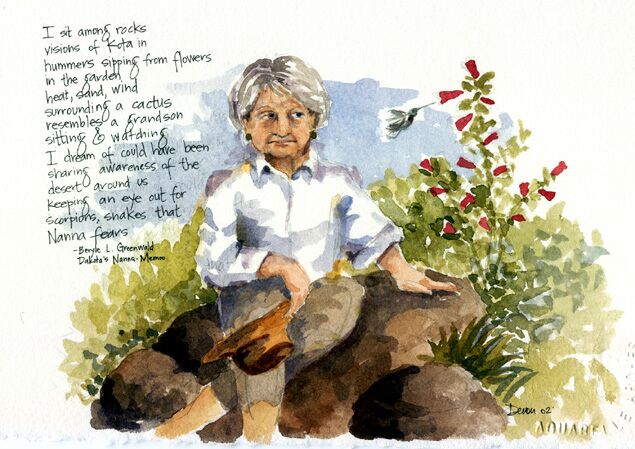 Not only is Devon a FAB artist, but she had brought a visual dimension to a poem that has meant so much to me since my mom wrote it and shared it with me!!! I just couldn't thank Devon enough. My mom was so excited that she bought the painting right away :) -- it will be hung at the show as "sold" but I promise there are many other fabulous pieces available there. If you have the chance to get there in person, please check it out!!!! If you can't get there in person, surf thru the website about the show at: www.angelfire.com/art2/devonmeyer
Good luck, Devon! Thank you for honoring our children in this way! Many miracles to you!!
Biography
Kara lives on Vashon Island which is a much more awesome place than she ever imagined it would be. She is a poet, bookmaker, wife, teacher, bereaved mom, facilitator, receptionist, founder, struggling p.t.barnum, turtle faithful, editor, artist, and a million other things that will prevent you from putting her in any one particular label box! Kara teaches through local art centers, artists in the schools programs, KotaPress and independently. To find out more about her, see:
http://www.KotaPress.com/kara/karajones.htm
Take an online class with Kara:
http://www.coursebridge.com/html/courses/writing/cbep01.asp