National Stillbirth Society
Post Office Box 10273, Phoenix, AZ 85064
Tel: 1-800-611-SADS www.stillnomore.org
This "Missing Angel" pin is our gift to you in memory of your baby.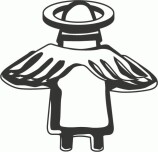 As the father of Camille (www.camilleolsen.com) I wear my angel pin every day. There isn't a day that goes by that someone doesn't notice it. When they do I tell them about my daughter and how she, and more than 26,000 other babies just like her, are stillborn every year. I tell them why we as a nation need to invest in medical research to discover ways to reduce this terrible loss and the devastation it causes in our lives. I also give them a card similar to the one that accompanies the pin we enclosed.
I'm Richard K. Olsen, founder and Executive Director of The National Stillbirth Society. These beautifully crafted reminders of our babies are made especially for us by Mexican artisans and are available only from the National Stillbirth Society. If you would like to get additional pins they can be purchased by mail. The pin we sent you is the small size (1-1/4" tall). It's available in medium (1-3/4" tall) and large (3" tall). The large can be worn as a pendant on a chain. Prices include shipping and handling.
ORDER QUANTITY
1
3
6
10*
Small
$18
$50
$90
$135
Medium
$28
Call for Pricing
Large
$45
Call for Pricing

* Each additional small pin is $12
Please make checks payable to our sponsor, The Missing Angel Foundation. Each pin is sent with a card. Extra cards can be bought in bundles of 50 for $10. We can add your baby's name and any website to the cards for $5. We have no order form so include a note with your order telling us what you're paying for.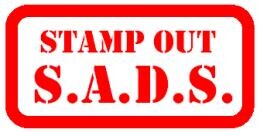 In addition to the angel pins, we have self-inking stamps available like the sample shown here of the National Stillbirth Society logo. These stamps are custom designed for the Society and not available anywhere else. They're priced at $20, including shipping. Buy and stamp all your outgoing mail with this to build public awareness of stillbirth.
The National Stillbirth Society was founded to "educate and agitate" for stillbirth reform in America. We're leading the drive to pass legislation in every state to provide parents of stillborn babies with a Certificate of Birth. Thanks to The MISS Foundation, Arizona has already passed the law and we received our Certificate for Camille last year. If you have the time to volunteer to help get the law through in your state please e-mail us.
Author Biography
Richard Olsen and his wife Sharon are the parents of Camille Rayana who was stillborn August 17, 2000 at full term. (www.camilleolsen.com) While they are members and supporters of MISS, Richard felt he wanted to do more specifically to promote stillbirth research and so has founded The National Stillbirth Society. It will be an advocacy and informational organization and will be going online after the first of the year with its own website, www.stillnomore.org