Devon's Show
by Laura Curtis
Editor's Note: This wonderful piece is a follow-up to the announcement we made in the August 2002 issue about Devon Meyer's art show. We just wanted to share this amazing experience with all of you!
When my son Allen died earlier this year, I thought the world would end. The world did not end but kept moving on, faster than ever. I shared Allen's story with so many and so few really wanted to hear. My friend Devon Meyer was different though. She allowed me to be sad and didn't run anyway, no matter how painful and sad it was. Instead she and I explored the depths of our souls and continue to find meaning in a life so short but so beautiful! About a month after Allen's death, Devon told me that she wanted to dedicate her next art show in memory of Allen. Devon's message was simple but oh so clear. Devon's art was going to capture the innocent beauty of life and nature as seen through children's eyes in memory of the short but amazing life of Allen.
"Through the death of Allen and other recent tragedies, I came upon the stark realization that those you love and life itself is truly a special gift. Through this show, I attempt to capture the moments in life that we so often take for granted.
A child's' perspective, so fresh and new, helps us to see things we no longer notice or don't stop to appreciate. Allen's short life helped me realize each moment is precious, and life is not to be taken for granted. Perhaps something good can be learned from something so tragic." ~Devon Meyer

Devon had a one night only art show as part of the First Friday Art Walk in downtown Phoenix on September 6th. My husband and I flew out Friday afternoon and were greeted by an intense dust and thunderstorm. The skies were beautiful and the winds provided a "cool" desert evening. A magical night for our little guy's show. We were such proud parents! The show was wonderful!! The studio was full most of the evening with great energy. Other MISS parents who attended were Michelle and Hector Ruiz (Baby Kai Noa) and Karen and Toby Crofford (Baby Wesley Allen), both from the Phoenix area. A portion of the proceeds will be donated to MISS.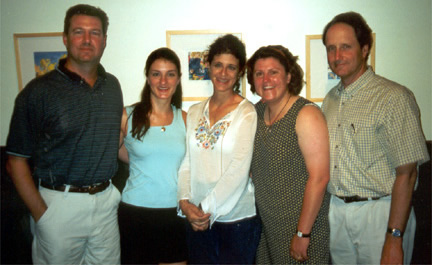 In the picture from left to right are: Toby and Karen Crofford (Wesley Allen), Devon Meyer, Laura and James Curtis (Allen Robert).


Included in Devon's show was a piece inspired by a poem that was written by a bereaved grandparent, Beryle L. Greenwald. Some of you probably know her as Dakota's Nanna Meemo. Her poem was written at the 2002 MISS Conference during the poetry seminar that I was attending. Little did I know as I was writing my own words that someone else in the room was writing her own magical words that would soon inspire a piece for Allen's show. It is truly a small world and life, every day of it, is a gift!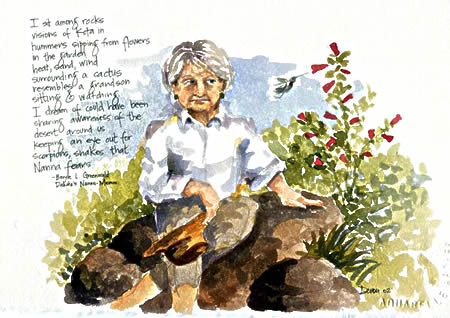 Devon also made a wonderful little book called "Allen's Life Lessons" with some of the great life lessons both she and I have learned through his life and death. I'm including a link to the web site with Allen's life lessons. If you click "Previous" at the bottom of the page you can see more about the show!!
http://www.angelfire.com/nb/allenrobert/page22.html
Author Biography
My name is Laura Curtis, my son Allen died in February 2002 of SIDS.