Readings & Release Parties
Release party for KotaPress Poetry Anthology Volume 1, Number 2 will be held in the Spring of 2001. Most likely the first weekend in May, but we'll get back to you with specifics soon.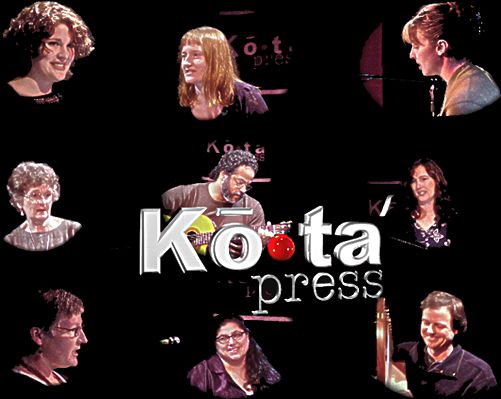 Friday, October 20, 2000
Release Party for Anthology Vol 1, No 1
This night we celebrated the release of the first ever KotaPress Poetry Anthology, Volume 1, Number 1, result of the first KotaPress Anthology Contest.
This was the line-up for the evening:
Opening - Ofrenda with music from Hawk
Featured readers - Nancy Talley, Carla Griswold, Heidi Sauer
Journal readers - Meko and Mark Allen
Featured readers - Marika Thompson, Dana Gerringer, Tim Hulley
Journal reader - Janet Best, Elizabeth Gray reading for winner Sandra Bailey
Closing - Thanks and Kara with Pocket Full Of Poetry.
We also celebrated the seasonal holidays of Halloween, Hallomas, Samhain, All Soul's Day, and Day of the Dead that night. Down in front of the stage we built an ofrenda for the celebration. This tradition comes from the Mexican culture where Dias De Los Muertos (Day of the Dead) is celebrated all during the month of October with the building of ofrenda tables in people's homes. (See www.azcentral.com/rep/dead/ for more information.)
October is also Pregnancy and Infant Loss Awareness Month, so we, in particular, celebrated Day of the Dead for all the angelitos (little angels) who have passed on ahead of us. That night we honored the memory of Dakota Jones, namesake of KotaPress, who died at birth and all our loved ones who have left too soon. We invited audience members and readers alike to participate in this celebration by viewing the ofrenda, adding to it, holding the memory of their loved ones in heart and mind as we celebrated with Poetry and Music.