Poetry News:

Poetry Journal is on indefinite hiatus as of January 2004
but our Poetry classes are still available thru our eStore
and our Poetry Therapy column is now available monthly
thru the Loss Journal here at KotaPress.
»»Do you know the business of your art? Most poets don't. Now you can take this Kota class no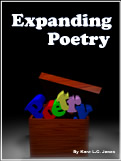 matter where you live and find out what the business of you art looks like.
We'll cover everything from revision to the dreaded poet voice, from self publishing to web publishing and back again. You can register online instantly though our eStore and get started right away. Don't miss out!
Register today! Click here to go to the eStore and then click thru to the Classes!