Vashon Feature: November 2003
This Just In: Get henna'd!! HennaHealing.com has opened its doors on Vashon. Come henna with us on Winter Solstice at Cafe Luna!!

more news: Just learned about this cool storyteller's site! You have to check it out: www.cathyspagnoli.com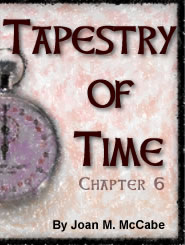 Serial release only at KotaPress!!
Tapestry of Time, Chapter 6
Our own Joan M. McCabe has just released Chapter 6 of her novel Tapestry of Time, and you can only read it here!!! And don't forget to come back next month for Chapter 7!!
Click here to read the fourth chapter of Tapestry of Time!!!
For more information about Joan, see www.jmmccabe.com
~~~
Melting Dry Ice
by Susan McCabe
It empties me to think of it. My veins feel like dry ice runs through them when I let myself imagine a father strangling his daughter...and, here, in our midst.
How does it get so bad for him, between them, that he can let himself rage that far? Of course, he couldn't continue living with that knowledge in his hands.
What pressures in his brain, in his life, collided that night to make him think -- even for a second -- that was the thing to do? How does a man become that desperate?
I hear the agonized musings of family friends who tried to prevent this, never imagining what horror they were pushing against. We are a community of families. We are a family.
When tragedy of this magnitude occurs among us we are frozen -- dry ice in our veins. We can't find a place to put this. And yet, we must. It's real too.
Shauna, in all her beauty, is always a part of us. So is her father. How can we embrace them both, absorb their fullness and move on? Can we possibly ever understand? Perhaps.
Can we forget? Not likely. We don't want to. Can we forgive Tom? Ultimately, that is our grave and weighty task.
We must forgive Tom, embrace his weaknesses as part of us, so that we can be open to practices that prevent others from doing the same.
As long as we see Tom as an 'other' kind of parent, an 'other' kind of man, we live in dangerous denial of that horrific potential for rage that lives inside us all, right there with the passion, the pride and the joy.
Our only healing response to this tragedy is love. We need to practice the kind of love that listens beneath the oblique hardware store greeting. That way we might be able to feed the passion that creates and starve the rage.
Editor's Note: It is important for all of us in the wake of grief to find safe expressions for all that comes up for us. As we grapple with our own fears, our own sense of forgiveness, grief and healing, it is often helpful to know we are not alone. With that in mind, we offer the following "safe spaces" for finding support and giving expression to your own experiences after the death of a loved one, friend, or community member:

www.idvos.org - Island Domestic Violence Services; they can help you locate support and outreach directly addressing domestic violence

www.nami-greaterseattle.org - Assoc for Mental Illness (Seattle chapter); they just launched a program for people voice grief and resultant depression over time: click on "Programs", then on "In Our Own Voice".

www.willsworld.com - site by author of "What To Do When The Police Leave"; His son was killed in a robbery, and after the police left from telling him about the death, he felt utterly alone. This book and all his outreach work is the result of helping himself and others to move thru the wake of grief after an unexpected and violent death of a loved one.

www.grief.net - site by authors of "When Children Grieve"; They also have a much bigger picture of grief for people of all ages -- like how any future loss can trigger aspects of a previous loss; They debunk the idea of "stages" and "closure" and much more.

www.childrensgrief.net - helping us to understand ourselves and how to help children of any age with grief and loss issues; dealing with our own grief over the loss of any child we called friend.

www.missfoundation.org/forums - though this site is geared toward bereaved parents, they do offer a forum for discussion called "Family Members Board: When a child dies" -- and it is for family and friends of the child to exchange, talk, share, and have a safe space over the course of time.

www.kotapress.com - publishing Loss Journal monthly; also has a Vashon Feature page where we are willing to post writings from people who are navigating in the wake of grief after Shauna's death.
~~~
Great holiday gift -- for you and the Park District!!
The release of Walks, Trails, and Parks on Vashon Island has benefited Vashon Parks District, and copies are still selling strong!
The book is written by Islanders John H. Gerstle and Susan G. Sullivan. The new guide to Vashon describes a complete circumnavigation of the island on foot; walks around the island's highways and byways, and descriptions of island parks. The slide show will present Island sights described in the guide.
Walk and park descriptions are accompanied by some pictures, history, Indian names, wildlife, and geology. All walks include distance and approximate walking times, making this a practical guide as well as an informative and interesting read.

The authors are John Gerstle, a retired aerospace engineer, and Susan Sullivan, a retired biochemist. Their love of walking and hiking inspired this project, and they are grateful to the Islanders who so generously partnered with them to bring it to completion.
The book is dedicated to the Vashon Park District, which underwrote its publication, and all proceeds go to the Park District. It is selling for a bargain price of $10.00 and is going fast. Get your copies today at the Vashon Bookshop!!