Vashon Feature: October 2003
This Just In: Look for Vashon Bookshop to be bringing you even *MORE*!! Bye Noah, hello Island Resource :)

More news: Sub Pop Masked Ball!! Get your tix, click here...
Support for Vashon During a Difficult Time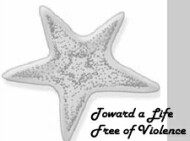 Island Domestic Violence Outreach Services
"Community Supporting A Life Free of Violence"
206-463-STOP
www.idvos.org
We at KotaPress are devastated to hear of the death of Shauna Jones. We know all too well how an unexpected, violent grief can affect a community in the short- and long-term. We wanted to use this space to tell you about some of the outreach available for the bereaved who are now coping with this reality:
On October 30th at 6:30 pm starting at VIGA, IDVOS will host a candlelight vigil in honor of all the silent witnesses and in memory of Shauna. Last week IDVOS offered the first of their community forums on domestic violence, and this recent tragic event highlights even more that we have a need on this island for the work IDVOS does. Their next forum on how domestic violence effects children was to be held next quarter, but the date will be moved up to happen much sooner. We'll get more information to you when we have it. Also, sometime in November, there will be memorial at the movie theater -- Char will be there to facilitate, and I'll post more details next week when I know more.
-Kara, KotaPress Editor
~~~
SUPER SCARY SKIT: Old Fashioned Radio Theater
Halloween Night at Vashon Bookshop!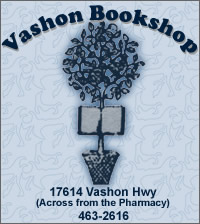 Please join us for a super scare skit and some old fashioned radio theater on Halloween night at 6:30-ish!! With the help of folks like our own Hawk Jones (director), Ross Modlin (playwrite), actors Harris Levenson, Johnathon Shipley, Joan McCabe and more, plus quite the folio team :) we'll be bringing you a ghoulish radio play, live in-store.
We're also excited to say that Hawk will also have his new exhibit of photography (and some of Kara's guerrilla art) on display that night -- showing at the Bookshop thru Nov.
More info from Devon:
"Dying to Die" (or Swiss Family Zombie) Is Coming To Vashon!
by Devon Atkins
After excruciating deliberation, Vashon Bookshop's Scary Skit Committee has chosen a Scary Skit for production and presentation. Ross Modlin's "Dying to Die", an original Radio Theater skit will be produced by a production team composed of Vashon thespians and other rabble rousers, and will be presented at 6:30 on Halloween Evening at the Bookshop. Our own Hawk Jones will direct!
"I'm thrilled to have my work produced by Vashon Bookshop, " said Ross Modlin, a third grade teacher, who has taught theater to children for years and in Sacramento founded his own children's theater company, The Runaway Story Company. He has written several children's musicals, and is currently working on "Calamity Cow and the Big Country Barn Show" for the Spring production at the Heavier Than Air Family Theater at Green River Community College. He is also associated with the Freehold Theater Studio in Seattle and was recently nominated to submit a play to the 2004 FringeAct Festival.
Ross is married to Wendy and, together, they have a daughter, Natalie, who is in first grade and loves JUNIE B. JONES books, and herein lies the connection with Vashon Bookshop where he shops for books for Natalie and his third grade students.
So, get ready Vashon. "Dying to Die" is in accelerated production and will feature so many of the Islanders who continue to surprise us with yet another fabulous production. (I am still waiting to see something bad on this island!) "Dying to Die" will begin just about the time your friends and family are stuffing that last piece of candy into the pillowcase, just about the time when you're ready to sit down and see some exceptional Radio Theater. Don't miss it.
For more information drop-by, call (463-2616), or email (bookshop@foxinternet.com) VASHON BOOKSHOP. LET'S GET SCARY!!!!!!!!!
~~~
Uterine Monologue: In 2 Parts...
Joan McCabe wrote something she's calling the "Uterine Monologue" which she had published in our island's beloved Ticket newspaper. That article turned out to be just "Part I" of the monologue. There were many unanswered questions and insights that readers wanted answered, wanted to explore. So Joan wrote "Part II" -- and we're thrilled to be bringing it to you here at KotaPress. We had offered "Part I" last month in our own Loss Journal, too, so we decided to bring the full "Uterine Monologue" together in one post for you now: Click here to read the full and complete "Uterine Monologue" by Joan McCabe!!!!
~~~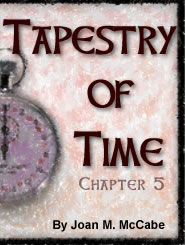 Serial release only at KotaPress!!
Tapestry of Time, Chapter 5
Our own Joan M. McCabe has just released Chapter 5of her novel Tapestry of Time, and you can only read it here!!! And don't forget to come back next month for Chapter 6!!
Click here to read the fourth chapter of Tapestry of Time!!!
For more information about Joan, see www.jmmccabe.com
~~~
Vashon: Music Capital of the NW :)
NOTE: We just heard rumor that Pat Burtis is playing at Cafe Luna in November!!! You won't get a concert like this anywhere off-island -- Pat Burtis for the price of a delicious cuppa??!! Don't miss this one...check out CafeLuna.net for more info!
Saturday, October 11, 6:30-8:30pm
East West Shop, 6500 Roosevelt Way, NE, Seattle 523-3726
An evening of harp and angelic song with Marnie Jones: Delight in an evening of mystical acoustic music! Marnie blends her sweet angelic voice with her guitar for some healing song and with her harp and open-tuned autoharp to inspire the spirit. An evening to cherish...Marnie Jones has an extensive background in performing and recording her own music and over 22 years as a Reiki healer. She has been offering presentations and workshops on healing with sound and music for over 12 years, but tonight she will concentrate on the music. She lives on Vashon Island where she runs an inn and plays the harp for guests. More information on her music can be found at
www.marniejones.com
www.thrivalproductions.com
Friday, October 17th, 2003 at Cafe Luna
-Brent L. Magstadt and Luke McQuillan - An Evening of Acoustic Music at Cafe Luna, Vashon Island. Another evening of romping in the harmonic world with one of the best players on the island. You never know where we'll go! Drop in and see who's sitting in with us. Cafe Luna is located right in the heart of Vashon town, next to US Bank at the intersection of Bank Road and Vashon Highway.