Vashon Feature: September 2003
This Just In: New Vashon Gallery O7O opens September 5th!! Wanna know more?? Click here...

More news: Sarah Christine in concert Sept 21st, 7:00 at Rustic Elegance to celebrate Internt'l Peace Day!!!
Erin Kenny's New Book from KotaPress!!!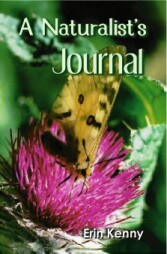 Editor's Note: ERIN HAD HER BABY BOY!! His name is Shanikai, and he & his mommy are doing just grand!! We'll see y'all at the book release party next week!!
A Naturalist's Journal
By Erin Kenny
ISBN 1-929359-20-9
Retail: $17.95
Due out September 12th! Everyone's invited to the book release party on Friday, September 12th, 7:30 p.m. at the Land Trust Building! If you want to guarantee yourself a copy, pre-order now at the Vashon Bookshop!! Join us for the release of this FAB book:
This exciting nature journal is perfect for anyone who is interested in observing and recording daily and seasonal changes in the natural world, as well as foraging for and making herbal medicines from local plants. It is designed as a three year journal so that the notes for each date appear on the same page each year, making comparisons and references easy. The journal is interspersed with entries compiled from renowned naturalist and ethnobotanist Erin Kenny's own nature journal. It includes fascinating and practical information about a wide variety of northwest native and naturalized plants, including edible and medicinal uses for all the plants. It is a "how-to" manual for creating your own unique herbal medicine chest with plants you can frequently find in your own neighborhood. The journal also contains thought-provoking questions that will encourage you to think deeply about your connection to the natural world. Erin is a gifted teacher and writer with a style that empowers students to believe in their own ability to work with plants and take their health into their own hands. By using this journal throughout the year, for several years, you will gain an intimate understanding of how to incorporate these healthful northwest herbs into your everyday life. To buy your copy today click here.
~~~
Serial release only at KotaPress!!
Tapestry of Time, Chapter 4
Our own Joan M. McCabe has just released Chapter 4 of her novel Tapestry of Time, and you can only read it here!!! And don't forget to come back next month for Chapter 5!!
Click here to read the fourth chapter of Tapestry of Time!!!
For more information about Joan, see www.jmmccabe.com
~~~
Transform Your Life
A Coaching Series for Men & Women
Saturdays 9am - 12noon
September 6, 13, 20, 27, & October 4
Experience personal life coaching in five hands-on workshops for people committed to focus, grow, and move forward in their lives. Join certified coaches Pam Bredouw and Rebecca Standish for this transformational series!! Click here for full information...