Vashon Feature: August 2003
This Just In: Brent Magstadt is one booked musician this month!! You did know that he is a FAB musician besides being a talented photographer, didn't you? Click here to see his August gigs!!!
Get off-island for this production of bodyBODY!!!

"Hi Vanessa, it's Alison with Eve Ensler's office …
unfortunately, your project seems very similar to
something Eve is in the process of writing so
she can't even really look at it right now." – April 1, 2003
bodyBODY: Aphrodite Raves
brings the women's body-image issue to center stage – FIRST

CONTACT: Vanessa McGrady
Producer: 206-523-7300, 206-335-6377
vmcgrady@mindspring.com
Thursdays through Sundays; Doors/exhibit at 7:30 p.m; Show at 8 p.m.;Aug. 7-24, 2003; Theater Off Jackson, 409 7th Ave. S., Seattle
Tickets: $12
bodyBODY: Aphrodite Raves (www.bodybodyproject.com) is a groundbreaking multimedia exploration of the women's body-image issue based on interviews with women of all backgrounds, sizes, hang-ups and colors. Through theater (think "Vagina Monologues" meets "Saturday Night Live"), photographs and video, writer-producer Vanessa McGrady, photographer Amanda Koster and filmmaker Kathlyn Albright bring the message home that there is beauty in every body, despite what today's prevailing images would have us believe. Oh, and we were here before Eve.
McGrady's original comedy, "Aphrodite Raves," directed by Silas Lindenstein, tells the story of a hairdresser and the people around her who navigate the complex landscape of culture, advertising and family dynamics to realize what it takes to be okay with the bodies we're given. The show features the talents of Holly Brewer, Melanie Calderwood, Ryan Christopher, Dave Elvin, Erica Evans, Kate Jaeger, Mike Grimshaw, Mion Lee-Drew, Patrick Meehan and Kristal Thomas.
"Women are walking around feeling awful about how their bodies look, when in reality, they can't possibly live up to the expectations created by mass media idealizations of beauty," McGrady said. "bodyBODY aims to offer a more realistic alternative, by showing women's bodies as they are and, at the same time, by telling women's stories of struggle and self-acceptance. And it's funny as hell."
"This is Beautiful," a photography exhibit by Amanda Koster, who unapologetically captures women as they really are in varying stages of undress. "It dawned on me that beauty is very proud, confident, ours. Beauty's costume and skin varies in this world, but the splendor, the feelings that 'We are gorgeous,' 'Nothing is perfect, I am good and I am alive, this is mine" and 'This is beautiful' transcend space," Koster said.
Kathlyn Albright's "Beyond the Body" is a video work in three parts that intersects with scenes in the play. In her work, women open up to the camera and reveal deeply kept truths about how people and events in their lives shaped their body image.
bodyBODY: Aphrodite Raves opens Aug. 7 and runs through Aug. 24 at the Theater Off Jackson (409 7th Ave. S., Seattle, WA). Our adorable and loveable sponsors include Connected Northwest, Crave, Duqué Duqué, Kodak, Ladies Workout Express, Seattle News Fax, Venus Clothing and Dr. Rachel Waldron in memory of her father, Dave Droisen.

The fabulous babes behind bodyBODY: We were here before Eve
Writer/Producer/Performer Vanessa McGrady works as an actor, journalist, publicist and grant writer. The bodyBODY: Aphrodite Raves project came about from the tremendous response she got for her article that ran in the Seattle Times about women's body-image issues, and she realized she could reach more people using a variety of media and formats. For more about McGrady and her work, visit her Web site at www.mindspring.com/~vmcgrady.
Filmmaker Kathlyn Albright has worked with the Seattle International Film Festival and the Women In Cinema Festival; she is also a founder of Stopworks, a local media arts collective. Albright has also written, produced and directed several short films, including My Way Is Right, a semi-autobiographical piece that showed recently at Seattle's One Reel Film Festival and at the Palm Springs Festival of Short Films.
Photographer Amanda Koster works as a free-lance editorial photographer for national and international publications. Her work exhibits internationally and is part of a permanent piece on women and domestic violence at the National Museum for Women in the Arts in Washington, D.C. Her Web site is www.amandakoster.com.

For tickets
Brown Paper Tickets: www.brownpapertickets.com or 1-877-BPT-4842
Duqué Duqué, 5348 Ballard Ave. N.W., Seattle (www.duqueduque.com)
Ladies Workout Express, 13510 Aurora Ave. N., Seattle (www.ladiesworkoutexpress.com)
Venus, 1015 E. Pike Street, Seattle (www.venusclothes.com)
~~~

Go Now To Beautiful Magic Studio!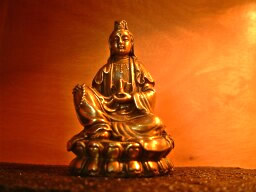 You must go NOW!!!! Many of you may have heard that our fair island is wishing lots of luck, love, safe travels & transitions to our own Louise Wisechild!!
(Can I just tell you I am soooooooooo going to miss her magical massage hands????)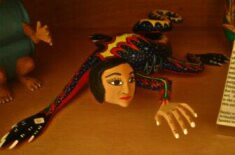 Louise is off to Hawaii for good -- those warmer waters captivated her heart, and she's moving Beautiful Magic Studio to the South Pacific with her! Once she settles in over there at the "other" island, she'll be selling electric bicycles along with her Beautiful Magic art. If you head to Hawaii anytime after September, you'll have to stop in and see her there. (Can I tell you I already miss her!!!??)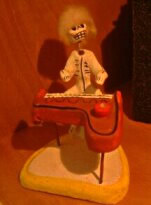 SOOOOO, back here on Vashon, you must get to Beautiful Magic Studio now, in August, as it's your last chance to check out the goods, trade some awesome vibes with Louise, pick up one of those coooool Day of the Dead items she's got on the shelves!! This is it -- you just have to go now to check out the charms, spells, statues, and Mexican art at the Studio! She'll be open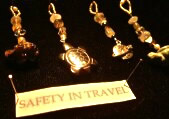 on the weekends for the month of August. Feel free to call if you want to check it out at other times or make an appoint for readings or other healing goodies with Louise. 567-5768.
Louise, can I come to Hawaii once a month for a massage?? :)
~~~
Tapestry of Time, Chapter 3-- only here at KotaPress!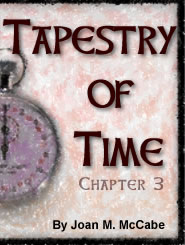 Our own Joan M. McCabe has just released Chapter 3 of her novel Tapestry of Time, and you can only read it here!!! And don't forget to come back next month for Chapter 4!!
Click here to read the third chapter of Tapestry of Time!!!
For more information about Joan, see www.jmmccabe.com