Vashon Feature: May 2003
This Just In: Get your tix for WORDS: Assignment Vashon, the live stage show!! You can get them at the Heron's Nest or at VAA. $7/VAA member or $10/general! Get 'em before they sell out!!!
McCabe's Tapestry of Time now available as a serial work!!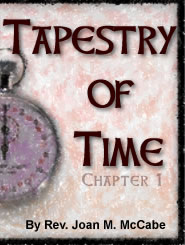 Our Rev. Joan M. McCabe has completed two novels, Tapestry of Time and Transcending Time -- with the third in the trilogy, Threads of Time, still in process! And now, KotaPress is honored to be offering the first novel, Tapestry of Time, as a serial, one chapter a month, right here, right now!!!
Click here to read the first installment of Tapestry of Time!!!
For more information about Rev. Joan, see www.jmmccabe.com .
~ ~ ~
Calling All Vashon Poets!!!!!
From Devon Atkins, Vashon Bookshop Publicist: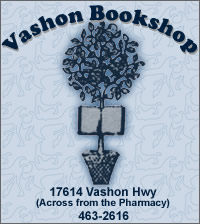 Vashon Bookshop, with the courtesy of Vashon Allied Arts, is currently accepting submissions of original poetry to be juried by three Island poets for a community event entitled POETS WAGING PEACE, to be held at The Blue Heron Art Center, Thursday, June 12th at 7:30 p.m.This event is inspired by the international effort, POETS AGAINST THE WAR which was initiated by Sam Hamill, founding editor of Copper Canyon Press, the much-respected Pt. Townsend publishing house.
Hamill's request that poets everywhere submit poems of protest, resulted in more than 15,000 submissions to The White House and thousands of poetry readings around the world. (Poems can be read online at (www.poetsagainstthewar.org) In an attempt to continue this effort and to encourage Island poets to support global consciousness, Vashon Bookshop is sponsoring this June event. Vashon poets are asked to submit a maximum of three original poems concerning peace, social consciousness, or humanism. Poems can be dropped off at the Bookshop or emailed to bookshop@foxinternet.com.
The deadline for submissions is June 5th. The judging will be "blind" and selected poets will be notified by June 9th. Poems will not be returned and selected poems will be kept in-hand for reading by the poets at the June event. For more information, refer to Vashon Community Calendar (www.vashoncalendar.org), call 463-2616, or drop by Vashon Bookshop.
~ ~ ~
Listen The Wind - The trailer is now online!!
Many of you may know that Tina & Leslie have retired from the Cafe Luna biz, but did you know that Tina has partnered with Wintry Sheehan to start a full-fledged production company?? Yep!! Right here on our little island, we now have Sylvan Moon Productions, and they've just launched their first film into the works! You can check out information about their work, this new film, and even download/view the trailer! You might even see a few of your neighbors in that trailer :) The site is:
So check it out. Send them an email. Show your support! They are doing FAB things!!!