Poetry News:

As always there are many announcements from the KotaPress Poetry front. We hope you will find these helpful, and feel free to contact us via email at info@kotapress.com or via phone at 206-251-6706 if you need further information.
»»Two new books by Jim Daniels currently available on amazon.com:
SHOW AND TELL: NEW AND SELECTED POEMS, University of Wisconsin Press
DETROIT TALES, short stories, Michigan State University Press
»»A Poetry Calendar of sorts: the following is a list compiled by our intern Samantha Mastridge. It is a list of AnnualPoetry Events she found while surfing the web. Check it out -- then do your own research to find out more about what you find interesting!
Austin International Poetry Festival The 9th annual Austin International Poetry Festival was held from April 19-22, 2001, with music and visual art, too. It is billed as one of the largest OPEN poetry festivals anywhere.

The Geraldine R. Dodge Poetry Festival Every September, the historical village of Waterloo, New Jersey hosts the largest poetry festival in North America, among the grist mill, the ice house, and the old apothecary. There are four days of readings, discussions, conversations and workshops taking place throughout the village and in the main tent, which seats 2000. There are usually a dozen simultaneous events going on.

People's Poetry Gathering A Woodstock for words in lower Manhattan. Next year: April 11-13, 2003. In the tradition of Brazilian string and the website gives clips, discussion, and a board to post (and read) found poetry.

National Poetry Video Festival Slam poetry, video poetry, most of the time both at once.

The Skagit River Poetry Festival This is a biennial festival. The festival has a strong liaison with the seven rural school districts in the County, with residencies, performances, and outreach programs.

Dancing Poetry Festival Imagine: dancing, from around the world, mixed with poetry and elegance, dancing to poetry, in four hours, once a year, in San Francisco, for the eighth year in a row, olé.

Tucson Poetry Festival. The festival takes place in Arizona in April.

The Los Angeles Poetry Festival.

The New York Underground Poetry and Music Festival. Now, that sounds worth checking out. It looks like they went hog wild with the music, but what poet doesn't love music? The lineup includes Ugly Boyfriend, the Black Pig Liberation Front, Suicide King, Sounds from Venus, and Toronto's own Selina Martin.

E-Poetry 2001: An International Digital Poetry Festival was the first convocation of digital poets and artists to focus on the state of art of digital poetry. The conference brought together practitioners who have never before appeared together in the same program. Participants came from countries such as Brazil, the UK, France, Germany, the Netherlands, Spain, Norway, Russia, Japan, and Australia, in addition to Canada and the U.S. The festival focused on works in networked and programmable media, kinetic/visual works, hypertext, and multiple practices in digital media.

O. Henry Pun-Off World Championships May 3, Austin, Texas.

Texas Cowboy Poetry Gathering February 27-March 1, Alpine, Texas

Cowboy Poetry Festival Every January, Elko, Nevada.

Lowell Celebrates Kerouac! first full weekend in October, Lowell, Massachusetts.
»»Apple Blossoms at Eye Level by Patricia Wellingham-Jones (Poet's Corner Press, 2002) is a collection of poems about California's Great Central Valley on the cusp of change. The poems range from glimpses of the people who live there to the wildlife and small flowers of this rural region. Wellingham-Jones is widely published in the small press, in anthologies and online and is a two-time Pushcart Prize nominee. Apple Blossoms at Eye Level is available for $12 postpaid from PWJ Publishing, PO Box 238, Tehama CA 96090; email pwj@tco.net; website http://www.snowcrest.net/pamelaj/wellinghamjones/home.htm .


»»Designed for a friend pregnant with twins, Welcome, Babies by Patricia Wellingham-Jones is proving popular with people all over the country. The mini-collection features 16 poems about babies and little children. Wellingham-Jones is widely published in the small press, in anthologies and online and is a two-time Pushcart Prize nominee. Welcome, Babies is available for $4 postpaid from PWJ Publishing, PO Box 238, Tehama CA 96090; email pwj@tco.net; website http://www.snowcrest.net/pamelaj/wellinghamjones/home.htm .
»»The KotaPress website now has a search engine!!!!!! If you check out the main calendar page of the Journal (where all the 2003 buttons for the different issues are), you'll see a search engine at the bottom of the page! This is a KotaPress site-wide search!! Want to read something by your favorite poet, just do a search! Check it out!
»»KotaPress proudly presents Trevor Hewett's new book Drift! This collection is comprised of some of his KotaPress monthly contributions along with new works. The run is numbered and signed, with hand printed cover and hand binding done by our own Kara L.C. Jones. This is one collector's item you don't want to miss!!! Check it out in our eStore, click here.
»» Do you know the business of your art? Most poets don't. Now you can take this Kota class no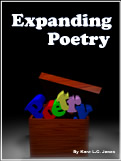 matter where you live and find out what the business of you art looks like.
We'll cover everything from revision to the dreaded poet voice, from self publishing to web publishing and back again. You can register online instantly though our eStore and get started right away. Don't miss out!
Register today! Click here to go to the eStore and then click thru to the Classes!
»»KotaPress has landed on Vashon Island with the following new contact information:
KotaPress
PO Box 514
Vashon, WA 98070
You'll have to remember to keep checking back here for the latest and greatest, or you could just:
»» Check out our free eNewsletter! KotaPress offers an online eNewsletter free upon request. If you wish to subscribe, please email us at info@kotapress.com asking for a subscription. (We do not sell our mailing list to third parties— we will use your address ONLY to contact you directly.)