Vashon Feature: July 2002
Click here for the Call to Vashon or for the Vashon Link Resources
Richard Lipke, Digital Artist & Musician

We're very excited this month to be featuring the work of Richard Lipke here at the Vashon section of KotaPress! Some of you m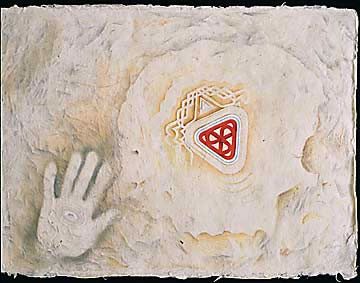 ay know Richard from his musical work with Sub Pop (best band in the world if you ask me, in my humble editor's opinion!) But did you also know that he is an amazing digital aritst? He is one of the artists who will be featured in the upcoming Blue Heron show scheduled for August 2002. This is the first ever Blue Heron show to feature digital artists. It's about time, and I think when you browse through Richard's art here (and when you click through to his website to see more), you'll see the amazing talent in our Island Digial Artist!
When Richard sent his work to us for consideration, he offered the following with it. I thought that many of our readers would appreciate hearing Richard's view on creativity, so we are sharing that here:
"I lost my brother and mother in the last 3 years so I've gone through the grieving process. Spirituality expressed through creation and meditation are what got me through it."
Richard also has an image called "One and Many" which is now available as a 13"x19" limited edition (500) print using archival inks (purported 200 year non-fading)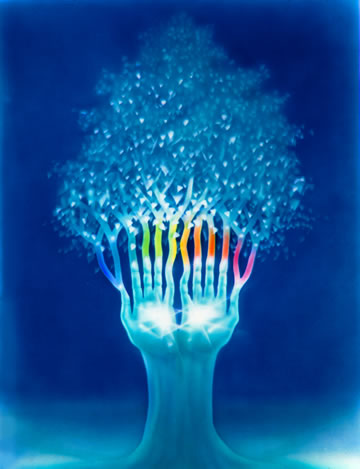 . While we don't have the image here, please feel free to email Richard directly at rlipke@wolfenet.com and ask to see a digital copy of it (.jpg). All prints are signed and numbered by Richard. $45 + $6 priority shipping, and check or money order is accepted. Please contact rlipke@wolfenet.com or or see his website www.artdimensions.com/rl for more details.
Artist's Description of "One and Many"
"As we walk through this life we have our own thoughts, hopes and dreams that are our very own while at the same time we are all interdependent upon our friends and community and our environment. We are intrinsically connected to all that has come before us and all that will follow , from the smallest sub-atomic particle to the most distant galaxy. A swirling cosmic consciousness that connects everything to everything. Some might call this God, Allah, Krishna, the great Spirit. Whatever the name is that we call it, the separation of us from it is our own perceptive limitation. This limitation we can change by moving through our world, holding this great connection to the universe in our mind. We are never alone. Specifically, the leaves represent our individual selves and the hands rising up as the tree represent the great consciousness."
Richard Lipke's Artist Statement:
There is a place in the human mind that perceives patterns in nature, creates patterns in language, math and music and designs all the images in our environment. This place is both the tangent point that connects to the rest of the universe and the veil that separates from it. With my work I attempt to bring images to the canvas from the cloth of that veil and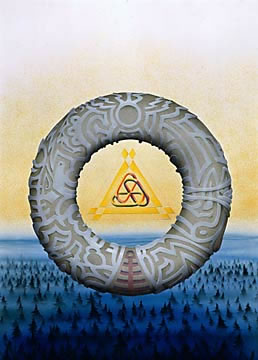 beyond.
I characterize my work as Mystical Symbolism. An image will appear in my mind, usually while in a meditative state. A rough sketch is quickly penciled on paper. The original image is coaxed into focus with more sketches until a master drawing is completed. The colors then surface and tell where they are to go. The painting then commences. A struggle between haze and clarity ensues between intuition and logic, until a balance is struck and the painting is complete. I use primarily acrylic and color pencil on paper.
Richard Lipke's Biography:
Richard Lipke was born in Kenosha, Wisconsin in 1951. At a very early age he demonstrated both a desire and skill in drawing. He would pour over his uncle 's scrapbooks of old magazine pictures and try to draw with crayons the images that appealed to him. At around seven years old he began to draw his own imagery using mostly pencils because of the detail that they offered. It was at this time that his work took on an other-worldly theme. His mother would give him old paper window shades to work on since large paper was hard to come by. His subject matter was the architecture and people of the Sun. (Yes, the Sun). Many elaborate drawings were made along with a language and customs of its people. His parents never discouraged his visions.
When he was three or four years old he would wake in the night and see people standing by his bed so he would go into the next room and sleep in his parent 's bed. There he could safely watch as the parade of people would march through the room and through the walls. He started getting used to it until one night a person or being walking noticed him watching, stopped and waved. This was a bit too much for Richard and he screamed and awakened his parents. It was also at this time that his grandmother had died.A week or so later he was at the neighborhood park playing on the swings when he looked up and saw his grandmother in the clouds waving to him with another woman standing behind her smiling. These are some of the paranormal occurrences Richard experienced as a young man. Perhaps it was inherited from his Slovak-Rom (gypsy) grandmother who also had visions. Wherever it came from to this day it plays an important part in the direction and evolution of his artwork.