Click here for the Call to Vashon Writers: Guidelines & Vashon Link Resources
The Vagina Monologues on Vashon Island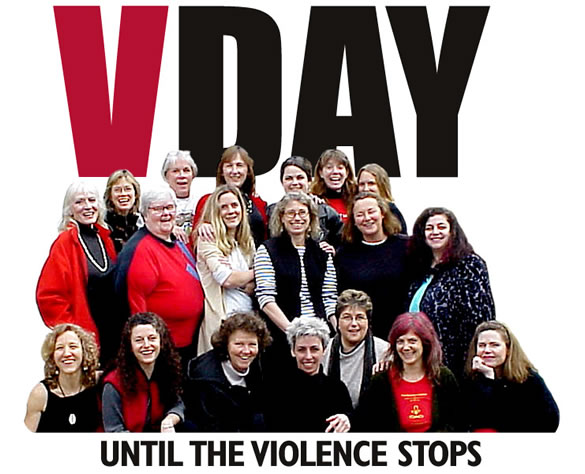 This is a one-time only performance of Eve Ensler's show The Vagina Monologues, and it is being performed here on Vashon as part of the VDay initiative to raise funds for the Island Domestic Violence Outreach Services (IDVOS).
Sunday, March 3rd, 4pm @ Vashon Theater
Vashon Island, WA
SOLD OUT!!!
The VDay initiative was started by Eve Ensler, author of The Vagina Monologues, as a way to host worldwide performances of the play while raising money and awareness for domestic violence outreach service organizations around the world. The VDay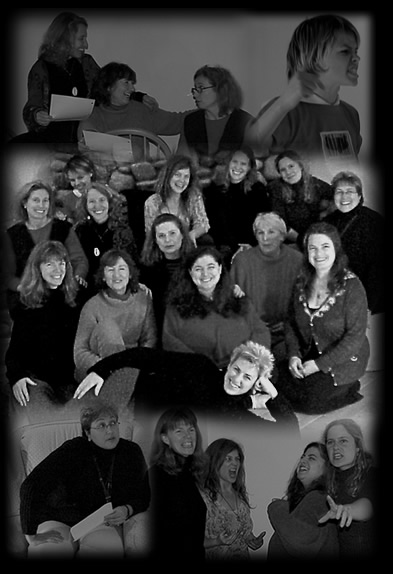 Foundation hosts lots of information and merchandise at their own website at www.vday.org.
This Vashon performance of The Vagina Monologues is being produced and directed by Lynann Politte and the proceeds from this event will benefit Island Domestic Violence Outreach Services (IDVOS) here on Vashon. While this show is performed by women about female issues, it is not just a show for women. You will find humor and sensitivity here about traditionally taboo issues. Politte points out, "Everyone should see this show. In the words of Audre Lourde, 'Silence does not protect you.' These taboos should be demystified, equalized, and talked about. That's how we can change thinking, and thereby, in this case, change the horrible incidences of violence against women."
We at KotaPress take this notion even further and offer the idea that these performances and awareness/fund raising events, offer us ways to save lives of people. Our work here at KotaPress is about helping families stay together after the death of a child. We are working to try and prevent stillbirth so that more families will see healthy, live births in the first place-- thereby saving the lives of children and keeping families intact. The Vagina Monologues is about whole families, too. If you stop violence on the domestic level, you save the lives of women, the lives of unborn children, you educate the boys and girls involved in families, you stop domestic violence where men, too, are being violated. You save the lives of people.
No, this isn't just about women. The 19 Vashon women who are performing in this play (see cast list below!), Lynann Politte who is producing and directing, IDVOS who is benefiting from this performance-- all of these people are saving the lives of other people. You, too, can help in this mission. Buy a ticket today for just $15 and come see a great show! Call Screaming Mimi's at 206-463-0552 to get your ticket using Visa or M/C. If you can't get to Vashon, then click thru to the VDay website and find a performance near you. Get into the act and save lives!
Many thanks to Buttonstampede for their work on our "Vagina Friendly" buttons!
Lindsay Aickin
Resident of Vashon Island for 11 years. I was born under a sign of strong diverse interests, mercurial change and eclectic talents. Hence, this decade, I find myself the mother of an 8 year old daughter, member of the Board of Development of Island Teens (D.O.I.T.), caretaker of home and hearth, and a collage artist. Why am I doing this play? The lure of the Monologues was irresistible...and February can feel sooooooo long...
Cynthia Becker
Cynthia proudly hails from Buffalo (where she learned to make great chicken wings), spent most of her young adult life in New England (earning degrees in library science and industrial engineering), and came to Seattle over 12 years ago. She has been on Vashon 2 years and wonders why she didn't get here sooner. During the day and some nights, she is a Corporate Program Manager for Adobe. The rest of the nights, she sings with the Vashon Voices, hunts down extra voiceover work and enjoys watching the ferries go in and out near her home with her partner Kayleen.
Although a Vagina Monologue Virgin, Cynthia is no stranger to cutting edge productions. One of her fondest memories is seeing the rambunctious musical "Hair" on Broadway when she was just 13! This lead her to pursue acting and singing in high school and college albeit with her clothes on!
When asked what brought her to participate in the Monologues Cynthia told us, "I have known too many women whose lives have been irrevocably altered by abuse. This is my gift to them - a celebration of our woman-ness, a voice to fill the silences, and a prayer for health and wholeness."
Nan Draper
Lover of life, communications and movement. Dancer. Performer. Teacher. Devoted mother and friend. Communer with nature. Knower of what it takes to be warm, put food in my belly and listen, feel, sense what is said, live simply, chop wood/haul water. An extra pair of hands with a heart.
What brought me to audition for the Vagina Monologues? My sister who died in 1994 from domestic violence. I am here to honor her life and struggle and turn tragedy into gold. Her life was not for naught. I have been profoundly lost and deeply at unrest as I grieve and search for the kernels of wisdom embedded in her murder. The monologues is the perfect way to weave my love of performance, communication, ensemble, empowerment of women, walking the edge, sparking insight, growth and healing for myself and others. I am profoundly grateful for this opportunity to help and to stand up to this challenge.
Kajira Wyn Berry
Kaj participates in many lives‹calligrapher, writer, editor, photojournalist, painter, pilot, feminist, devoted mother and grandmother, Islander since 1975‹each of which contribute to her joyful participation in The Vagina Monologues.

Elli McNamara-Blad
Born and raised in Australia. Vashon resident for 6 years. Mother of 6, grandmother of 2.
American Airlines Flight Attendant, on LOA, currently pursuing painting, writing, being.
First time on stage - drawn to the issues explored through family history and earlier work
with Committee to Aid Abused Women in Nevada.
Sarah Christine
Sarah Christine is very honored and thrilled to be in this amazing production and to be amongst such a great group of women. "This play is so powerful because it has the ability to really touch people. It is filled with truth and honesty, something I am passionate about. It is so important that women share their stories and experiences, and to feel confident in their own feminine power. All over this world women have been degraded and made to feel inferior. But it is time to HEAL, RECONNECT, RECLAIM and CELEBRATE women and our VAGINAS!!! After seeing this play performed I have found myself saying the word Vagina more than I ever have in my life, and its very empowering. I hope that everyone who sees this production, will get over the fear of the word..."
Sarah has been involved in theatre and music since she was a teenager. She has been in many productions such a Sound of Music (as Maria) Oklahoma (as Laurie) Much Ado About Nothing (as Beatrice) and most recently Drama Docks Wait Until Dark (as Suzy) to name a few. Sarah is a also a singer/songwriter with a style all her own blending conscious folk with lyrics of truth, love and freedom. Contact Sarah at rainmoonsun@hotmail.com

Laurie Gail Geissinger
Laurie was raised in Dallas,Texas and attended the University of Califonia Santa Barbara, completing degrees in Environmental Studies and Geography. After moving to Vashon Island twenty-five years ago, she became the mother of one awesome son. She has been employed as a wrangler, horseback riding instructor, park ranger, cartographer, lobbyist, environmental analyst, electromagetic fields (EMF)and health consultant, and special projects coordinator for a municipal artist-in-residence. It's true she makes tantilizing tamales. She has never set foot on stage. It is true she loves tractors, is a champion powerlifter and makes tantilizing tamales.
Caryl Green
Caryl received her theatre training at Rutgers University and The Stella Adler Theatre Studio in NYC. She is a practicing psychotherapist, but makes occasional appearances in local productions such as Steel Magnolias and Artichoke. She has participated in Islewilde and other drama, drama therapy, and storytelling performances and workshops, including a season touring with the UMO children's program. Caryl's major ongoing role is as Noah's mom.
When asked what the Vagina Monologues means to her, Caryl replies, "Being female is about more than body parts, so why do a play about vaginas? We have rightly complained about being objectified by others, and yet many women have become estranged from our own essential part, the vagina. This play, to me, is about stepping further into the mystery and intrigue of what it means to be a woman – unabashedly."
Laura Hendrix
Laura has dappled in theatre her whole life. From playing the role of Pepper in Annie to Rosalind in Lou Hetler's production of Moon Over Buffalo, Laura has particularly enjoyed comic relief. She is currently employed with the Vashon Park District and has a strong understanding of community dynamics. Laura felt that this production offered her the opportunity to educate our island as well as support a worthy cause outside of her normal role at the park. Her participation in The Vagina Monologues is a tribute to the beauty and depth of sisterhood, both blood and water. She attributes this respect and love to Heather, Molly, Meghan, Sarah, her mother and grandmothers. Laura points out that she has no strong feminist reactions to the play, in fact, her husband helped her to create her character but she does want to point out that violence can and does happen, even to beautiful people, in beautiful places, during beautiful times.
Kathryn Mesney-Hetler
An actor, instructor, and voice and dialect coach for over 20 years, Kathryn has worked in most of Seattle's major theaters, including Seattle Repertory Theatre, ACT, Intiman, Empty Space, The Group and Seattle Children's Theatre. Prior to teaching at Cornish, she taught in the BFA Actor's Training Program at Ithaca College and at the KIIS Broadcasting Workshop in Los Angeles. Major roles in the theater have included: Annie Sullivan in The Miracle Worker, Clytemnestra and Thetis in The Greeks, Lady Bracknell in The Importance of Being Earnest, Dull Gret/Angie in Top Girls, Miss Elena in Dear Miss Elena, Madame Giselle in The Workroom, and multiple roles in Sarajevo: Behind GodÕs Back, The Dining Room, and Wenceslaus Square. Her film and television credits include Seven Hours to Judgment, NBC's Hot Pursuit, CBS's The Lame Duck, and ABC's Mystery Dance. During her 20-plus years at Cornish, she has directed You Can't Take It with You, Mother Courage, Fen, E/R, Dark of the Moon and Pericles Unchained, among others. Kathryn received a BS from the State University College of New York at Brockport and her MA from the State University of New York at Binghamton, where she studied and taught with Arthur Lessac.
Kara L.C. Jones
One of the founders of KotaPress, graduate of Carnegie Mellon University, poet, artist, guerrilla bookmaker, author, performer, friend, lover, wife, mother to a stillborn son, and a million other nouns and adjectives. Kara fights the good fight every day to raise awareness and save the lives of children and families through her expressive arts work at KotaPress and with the MISS Foundation. Helping to put a stop to domestic violence is another way to help save the lives of children, and so Kara is volunteering her time and performance along with all the other wonderful womyn in this play as a way to raise funds for IDVOS. You can reach her through KotaPress at editor@kotapress.com
Erin Kenny
In Erin's varied career, she has been an attorney, a rock and roll singer, a photographer, and a writer of poetry and plant identification books. Her current incarnation is as a naturalist, ethnobotanist, and columnist for the Vashon-Maury Ticket. She runs a kids nature camp in the summer, homeschools in the winter, and teaches adult nature studies classes year round. Erin thinks it is thrilling to be able to work closely with so many beautiful and inspiring women in preparing for the Monologues. She was drawn to audition because she thinks it's about time to reclaim the word vagina as just another body part and not a dirty word.More information about Erin Kenny can be found on her web site at www.nwherbs.org.
Joan M. McCabe
Joan has lived on Vashon since 1985, and given birth to both her children here. Ordained as a minister in 1983, she went through five years of seminary and commuted off-island to her former church for ten years before realizing she could serve God by performing weddings and volunteering in school. Joan also is a spiritual teacher, has been giving psychic readings for twenty years, and is a Steward of the Findhorn Foundation in Scotland. Joan grew up overseas and lived in Berlin, London, New Delhi, Stockholm, and Ottawa. Her first calling was to the theatre and after college she went to Drama School in London. Personal tragedies redirected her life to more inward pursuits. For the last eleven years, Joan has worked with families and individuals affected by the disease of alcohol. Because of this experience and also her personal experience in recovering from a background of emotional and psychological abuse, the Vashon Monologues holds an important place in her heart and she feels extremely privileged to be a part of this profoundly moving work.
Susan McColley
Susan was last seen on stage in l958 in the feature role of Sally Etta Pickle in a Drama Club production of The Bean Town Choir at Franklin Elementary School in Santa Monica, California.
After leaving her short-lived career in the theater, Susan spent far too many years trying to please her parents and working for men in jobs she describes as "cleaning up after the elephants". Once she'd had enough of that shit, she finished a degree in Art History at the University of Washington and began working as a Reproductive Health Care Counselor at Planned Parenthood. Go figure. Susan moved to Vashon with her husband Jim in 1998 and established EiEiO Animal Farm, where she happily raises goats, collects eggs, and works with kids in our community.

Kay Richardson
Kay Richardson is a performing and healing artist who thoroughly enjoys island life. She loves acting, dance, singing and drumming and moved to Seattle from Texas in 1995 to study at Freehold Acting Studio. In '98 she went to Heartwood Institute in Northern California to combine Bodywork with her background as a Family Therapist. She then moved to Vashon three years ago to be in nature and a community where she could integrate her life work.
Kay felt honored to be featured in the 2001 Women of Wisdom Jazz Opera, Temple Dreams as Amazon Chief. On the island, she has fun playing with the band Foxfire and with Islewilde! She is thrilled to be part of The Vagina Monologues as she is focused on healing divisions between male and female within and without.

Caitie Rowe
I'm 17 (the youngest one in the cast), and I have lived on this acursed island for over half of my life. I am a fashion designer and am going to start modeling soon. I have two sisters, and it is tough being the oldest. But being the oldest Ialso feel responsible for my sisters. Growing up on Vashon, we have been basically sheltered, and as kids we feel very secure. However I think that being a part of the Vagina Monologues is proving to be a very good eye opener. . . things do happen close to home.
Reva Sparkes
I was born in 1928, long before many things we take for granted today. However, the first tv was sold for $50.00 in 1928 and Calvin Coolidge was President . I am retired, love Vashon Island, am a professional writer (meaning that I write a column and get paid) and enjoy community theater immensely. I think the Vagina Monologues are a great idea and am proud to be part of the project. I have a number of theater credits, my favorite being the role of Mother Superior in Nunsense. I have two adult children, five grandchildren and three great grands. I am currently working on my autobiography so could send you several thousand words in a heartbeat, but will restrain myself.

Maryam Steffen
I am not one of those actors who began their careers at five, unless fifty counts. I came to acting rather like I came to children, late in life. I was in my first play in 1989 at the tender age of 48 just before we moved from New York. Shortly after arriving on lovely Vashon Island, I became involved with the Northwest Actors Studio taking classes, being in small productions, and most recently, I completed the Conservatory Program culminating this past fall in a show case production of A Subway Farce by Tony Curry. I became involved with the Vagina Monologues most serendipitously, and it has been a wonderful, opening, and challenging experience. I knew essentially nothing about the Monologues nor the movement growing up around them. Becoming aware has opened me in surprising and delightful ways. I have lived on Vashon for approximately 10 years. I am a wife and mother of four boys and work with a remarkable special needs child at Chautauqua School, as well as being an actor.
Thea Vernoy
Thea is thrilled to be involved in this exploration and celebration of women's lives and sexuality.
Producer/Director, Lynann Politte
THIS SHOW IS SOLD OUT!!!