Vashon Feature: November 2002

This Just In: The Barefoot Boogie!!
Wednesday, November 13th & 20th
7 to 11pm @ Trillium Retreat
$15 Bathhouse; $5 Boogie

DJ, music, open co-ed bathhouse. Swim suits optional. Bring snacks, towels, and your dancin' feet!! Adults only please. No alcohol. Call 463-5509 or see
www.trilliumretreatcenter.com
WolfTown!
P.O. Box 13115
Burton, WA 98013
206-463-9113
Our WolfTown is in immediate danger of losing their land, and they need your help today!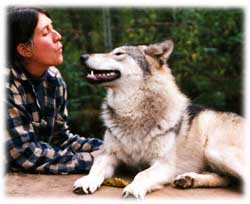 WolfTown is a qualified 501c3 non-profit organization that rescues wolves and horses from destruction or abusive situations, bringing them into contact with caring people. In return, these wonderful animals bring a special spirit into the lives of their human protectors and companions.
WolfTown's wonderful land patron is facing financial difficulties, and they must purchase the land within 30 days or risk losing it. In order to buy the property, they have the immediate need for:
An institution to provide the loan to us
Guarantors (10-20) for the loan
A 25% down payment of $75,000
If you can help WolfTown with any of these needs, or if you can provide leads to people who can help, please contact WolfTown right away. They need your help so that they can continue caring for 14 wolves and eight horses, and so that they can continue teaching and mentoring young people throughout Vashon and the Pacific NW.
If you are able to help financially with a donation today, please contact Washington Mutual Bank (phone 206-463-9197), who maintains WolfTown's Mojo Willie Land Account for them, to which you can make a direct donation to.
Thank you very much for anything and everything you can do!

This just in!
Last month we featured Jenn Reidel here on the site and on the WORDS show. We have since found out that her work will be featured at Bandit Studio (24026 Wax Orchard Rd SW) during the Vashon Holiday Arts Tour happening December 7-8 & 14-15 from 10 am-4 pm. Check it out!!
.