Winners Past & Present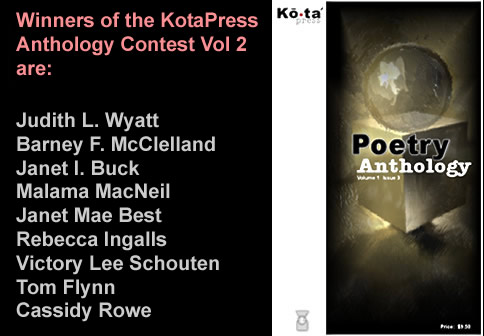 Our KotaPress print Anthology Contests have changed in terms of production schedule. Rather than being a semi-annual event, the Anthologies will be published only once a year, but in a larger run with a wider distribution starting with our 2002 contest. Because of these changes, we are also consolidating the two 2001 contests into one book to be released in October 2001. As you may know from the announcement last issue, the following were the 2001 winners from the first contest:
We would now like to add to that list of 2001 winners. The following are the winners from the second 2001 contest:
All of the above mentioned authors will be featured in the KotaPress Poetry Anthology due for release at the end of October 2001. We hope to have all of them join us at the release party and reading to be held Wednesday, October 24th from 7 to 10pm at Sunset Hill Community Center in the Ballard neighborhood of Seattle, WA.
Author bios and excerpts for the winners in Volume 2 are forthcoming.
Previous winners for KotaPress Anthology Vol 1, Issue 2 were:
Allegra Wong, Joseph Lisowski, Ruth Daigon, Kevin Simmonds, and Charles Fishman. Congrats!
Excerpts and Author Bios for Vol 1, Issue 2
Click on author name for details:
Ruth Daigon
Kevin Simmonds
Joseph Lisowski
Allegra Wong
Charles Fishman
Previous winners for KotaPress Anthology Vol 1, Issue 1 were:
Nancy Talley, Sandra Bailey, Carla Griswold, Tim Hulley, Marika Thompson, Dana Gerringer, and Heidi Sauer. Congrats to all of you!
Excerpts and Author Bios for Vol 1, Issue 1
Click on author name for details:
Nancy Talley
Sandra Chaplain Bailey
Carla Traylor Griswold
Tim Hulley
Marika Thompson
Dana Gerringer
Heidi Sauer