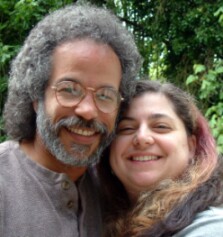 We are Kara and Hawk Jones, and we make our home on beautiful Vashon Island, WA.
I (Kara) have been writing since I was big enough to hold a crayon and have always enjoyed writing and reading poetry. KotaPress is a wonderful step in the evolution of my career as a writer and an editor. And it has been a most positive way to process my grief over losing our son Dakota!
I am a graduate of Carnegie Mellon University where I studied with Jim Daniels to hone my poetic craft. My creative and non-fiction writings have been published all over the world in the print and electronic formats. We have released my books, Flash Of Life, Father Son Holy Ghost, as well as Mrs. Duck and The Woman (in English & Spanish), through KotaPress.
At various times, I have played actress. From GraviD's Daughter production of "maxi pads, angels, and other winged things..." to the "Hair" monologue as part of the Vashon Island Vday 2002 staging of Eve Ensler's Vagina Monologues. On occassion I will play a folio part for the radio theater plays that Vashon Bookshop produces. At other times, I've played artistic coordinator. From the 2003 Vashon Vday art show titled "Women's Bodies: Violence & Healing" to production assistant at FCI, producers of Mister Rogers Neighborhood. Also had the good fortune to be a partner in Power Trip Productions which produced The College Bookstore, one of the first online soap operas ever!
Sometimes Hawk and I partner up to teach classes in art centers, at grief conferences, book festivals, in libraries and more. We've hosted our "Expanding Poetry" workshop for Washington State Poets Association several years in a row. Through the MISS Foundation Passages Conferences, we offer "Creative Expression: Healing Thru Poetry," "The Personality of Support Groups," "Giving Sorrow Words..." and "Tangible Parenthood." And I have hosted handmade book and artmaking classes through A Writer's Wood and The Gathering Place.
I have been doing studies of my freehand drawing for over 15 years. Depending on my interest and life circumstance, my drawing endeavors have changed and evolved. I have explored watercolor, anime, life drawing, doodling, scrapbook sketching, and others. And now, I'm looking at how my design drawings translate from paper onto the 3D surface of the human body during henna sessions which is most interesting!! Check out www.hennahealing.com to find out more about my henna art!
Recently I got my Reiki Level 1 certification and am continuing my studies of that discipline with Reiki Master Jeanne Robinson. I've found that doing self-Reiki prior to a henna session keeps me grounded, steady, and fully present for clients. As I progress in my studies, I hope to offer Reiki in some modified format to my henna clients as a way for them to be fully present in their bodies as I'm doing henna on their skin. This is another element that pulls henna art and healing art together for me.
Hawk co-founded KotaPress with me after the stillbirth of our son Dakota in 1999. He has travelled the world as a singer, done morning drive-time as a talk jock, and played guitar in cafes far and wide. His passions are in the digital arts and photography. The next projects for him are 1) turning "Mrs. Duck and the Woman" into an animated short so the story can be shared with a new audience through film festivals and theater releases and 2) doing his professional photography through KotaGraph. Hawk & I facilitate the WA State MISS Foundation chapter for the Seattle area, as well as co-moderate the Kota Loss Discussion Group on Yahoo eGroups.
To find out more about us:
See Kara's personal page at
http://www.KotaPress.com/kara/karajones.htm
See Hawk's personal page at
http://www.KotaPress.com/kara/hawkjones.htm