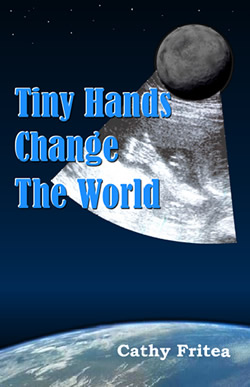 Published by KotaPress
ISBN 1-929359-10-1
Out of print, no copies available
Price: $12.00

Tiny Hands Change The World
by Cathy Fritea

Out of print, no copies available for purchase!
This amazing collection from Cathy Fritea offers us a look at loss, healing, acceptance from the view of a mother and father who have endured the stillbirth of their precious son, Daniel. Fritea's perspective on life is one of abundance even in the face of overwhelming loss. While this is a narrative of loss, love, and survival for the Fritea family, it is also the story of what so many families endure after the deaths of their children. Don't pass up the chance to see how these Tiny Hands have changed our world!
Excerpt
When an emotional journey takes place
It consumes our very being
It takes
Time,
Strength,
Love,
Trust,
Friends,
And
Faith, to learn from our experience
Rebuild
And love again.
Author Bio
Cathy lives in Connecticut with her husband, Simion and their son Nikolas. This is her first published book accompanied by her e-book of "Tiny Hands." Cathy has worked over ten years in the Health Insurance Industry with a direct interest in the "Human Care" development. She has created the RainbowMaker Website and also contributes to The Healing Garden Journal Magazine with articles on "Enlightening Living" and "Awakenings." Cathy can be reached at cathy@rainbowmaker.org