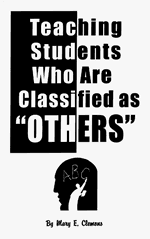 Produced by 21st Century Staff
Development and Consulting
out of stock
Teaching Students Who Are Classified as "OTHERS"
by Mary E. Clemons

This book is available in limited distribution from KotaPress directly. If you are involved in education at any level, you will want to read all this book has to offer. Clemons clearly demonstrates her experiences as English teacher, Speech and Hearing teacher, Elementary Principal, Secondary Principal, and Superintendent in this concise book about equality (or inequality, as the case may be) in our classrooms today. If you work with children in school, in homeschooling situations, or even if you just feel for the children we hear about everyday shooting and killing each other-- you need to hear Clemons' message.
Out of stock
Excerpt
From Teaching Students Who
Are Classified as "OHTERS"
"We as educators are probably not aware that we sometimes, in the attempt to make some of our students feel accepted, try too hard. That student or those students may get the feeling that they are viewed differently...
Before we start examining ourselves, let us look at some research that seems to suggest that even those who helped to prepare us for our careers in education may have had prejudices of which they were not aware. Webster's Dictionary defines prejudice as "a preconceived opinion, usually unfavorable" or "an unjustified and unreasonable bias." Prejudice is not race or gender specific, it can infiltrate anywhere and anyone. We all have some form of prejudice and the potential to pass it on. For this reason, as educators molding the most precious clay in the universe, we must look constantly in the mirror at "self" in an attempt to be equipped to offer the very best unbiased education to all students."
Author Bio
Mary E. Clemons has been a public school teacher working with all levels from pre-school to college graduate students. Her passion remains those students whose names when spoken are not accompanied by a smile. She has worked across the state of Pennsylvania as a staff developer, college instructor, supervisor, and consultant with organizations such as Westmoreland Intermediate Unit #7, University of Pittsburgh, PA Dept of Education's Writing Standards Committee, and PA Dept of Education. She attended Clarion University, Penn State University, Indiana University of PA, and the University of Pittsburgh. Her certifications include the following: English; Speech and Hearing; Elementary Principal; Secondary Principal; Superintendent.