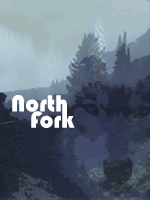 Published by KotaPress
ISBN 1-929359-04-7
Price: Out of print, no copies available

North Fork
by B. Jaime Curl

Out of print, with no copies available for purchase!

This collection of poems attempts to take everyday occurrences we take for granted: a streetlight, a sunset, or a windy night in the city, and make them more tangible, or paint them in a different light. It won't ask you to form new opinions about these things, but perhaps you'll take a closer look.
Excerpt
Little Jamaica
Darling girl, budding flower,
brought to this world
with patchouli dreams
and green colored thoughts.
With barefooted carelessness
tiptoed across the babbling stream,
only to pluck a young flower
from the plentiful field.
Dirt smudged hands stretched
for the tender stem,
almost translucent in the sun.
New leaves, dew drops pulled
maturing petals low on the cusp
of morning, and pollen-nosed
laughter rose above the busy hum
of insects and whispering secrets
of your favorite brook.
You coax the stem from the soil,
yielding its bed all to simply,
as if it was meant to hold the earth
a short, beautiful time.
A brief moment, captured in time,
silence, then back to the ground again.
Young flower, who withered too soon,
your spring roots will take
to the earth once more,
and reach the heavens
with new, tender petals.
Author Bio
Jaime lives, works and writes in Seattle, where he is supported by his wonderful friends and family.