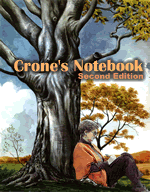 Published by KotaPress
ISBN 1-929359-05-5
Price: Out of print, no copie available

Crone's Notebook
by Nancy Talley

Out of print, with no copies available for purchase!

"Nancy Talley inspires us to write and read poetry at once profound and accessible. Her poems remind us of who we are and how to walk this journey with grace, dignity, and humor."
-Shelly Tucker Ph.D., poet and teacher, published with Harper Collins, author of WORD WEAVINGS and WRITING POETRY
Excerpt
The Red Louie

I.
I sat on the pegged oak floor
building a city of blocks
with my little brother.
One block alone caused argument
to such a degree we gave it a name -
The Red Louie.
This simply-red triangle was needed
to top each structure's aspiration
and there was only one.
Taking turns seemed impossible
at the time.
II.
You moved away. I stayed.
I moved away. You visit.
I married and had children.
You worked. I worked.
Our mother died.
You cried. I cried.
Our father married. Your son
stood for the foolish union.
You divorced. I am widowed.
I injured my spine.
You have cancer.
III.
If I had The Red Louie
I would wrap it gently
in brightly colored tissue
and send it EXPRESS
by overnight
so you could have it
by your bed
first thing every morning.
Author Bio
Crone, Grandmother, poet and crabby old woman.