Excerpt
A Song of Austria
by Lynda Lambert

Can you sing for me a song of Austria?
Sing about papal treasures
and jewels in the golden monstranz
inside Salzburg Cathedral.

Let me hear the sounds
of the bombs that dropped
and fires that blazed
when the buildings were destroyed.

Take me on ancient paths
where Celts and Romans used to walk.
Let me see signs and wonders along the way
and taste salt inside the mountain.

Can you sing about golden angels
carved in the wooden altars?
or goats on the Alpine hills?
or teams of horses that pull the wagons?

I desire to listen to the waters of Mondsee
draw the sailboats on the lake
and the silence of the absent souls
that rises from ancient bones in Halstatt.

I will lay back my head and look at the mountain tops
as you sing of distant roads
that meander through the lush green hills
as we turn to begin the long ride home.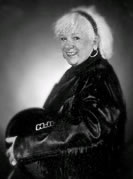 Author Bio
Lynda Lambert lives and works in the small village of Wurtemburg, located in the foothills of Western Pennsylvania. She is a graduate of Slippery Rock University of Pennsylvania and West Virginia University where she earned advanced degrees in Fine Arts and English. Currently she is Associate Professor of Fine Arts and Humanities at Geneva College in Beaver Falls, Pennsylvania where she teaches studio art, humanities, and contemporary poetry.
This book is her first published collection of poems. Here she develops her subject matter—nature, landscape, and journey. While her poems begin with keen descriptions of a place, she then moves the reader into a sense of mystery through her powerful reflections and insistent music. Always there is the notion of both a physical and spiritual journey – a pilgrimage.
More About Concerti's Release
Concerti is being released in conjunction with The Trunk Show, an international traveling exhibition of art by Lynda Lambert. The Trunk Show will travel to galleries and museums from January 2003 through December 2005.
Email Lynda directly at lyndalambert@zoominternet.net for exhibition details or to schedule the show in your area!
"I am grateful for Lynda Lambert's healing tapestry of words spun of sounds, images and emotions."
-Howardena Pindell, New York City