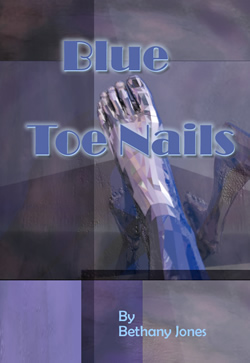 Published by KotaPress
ISBN 1-929359-07-1
Price: Out of print, no copies available


Blue Toenails
by Bethany Jones

Out of print, with no copies available for purchase!

KotaPress is proud to present this new, young writer Ms. Bethany Jones. Blue Toenails is her first published collection of poems. These writings show a young woman beginning to examine her world closely and ask the difficult questions. Ms. Jones shows us everything in detail from how everyday peer pressure affects a teenager's quality of life to how excruciating it is to realize that the death of her little brother has profoundly changed her familial relationships. This is a hard-core, honest look at life through the eyes of a promising new writer!
Excerpt
I sit in my room alone and think about life,
but it just makes me mad,
depressing tales and stories of my life.
Things will change and life will
get better, people will sing and dance and be happy
to breathe the cool air
that is flowing freely through my window.
Author Bio
Bethany Jones has been writing ever since she could hold a pencil, and this is her first book. She loves the finer things in life-- especially blue toenails and purple hair. She aspires to one day be a film reviewer, a famous singer, or an Oscar winning actress. If you wish to contact Ms. Jones, you can send email to info@kotapress.com, and we'll be sure to forward your message to her.