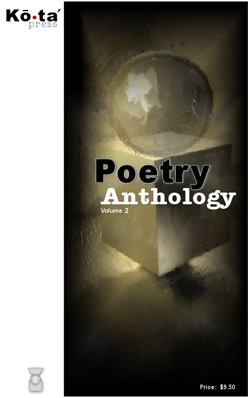 Published by KotaPress
ISSN 1534-1429
ISBN 1-929359-14-4
Price: free, only available in ebook format

KotaPress Poetry Anthology
Volume 2 - 2002
Contributing Authors: Judith Wyatt, Barney F. McClelland, Janet I. Buck, Malama MacNeil, Janet Mae Best, Rebecca Ingalls, Victory Lee Schouten, Tom Flynn, and Cassidy Rowe

We proudly present the Second Volume of the KotaPress Poetry Anthology! We are presenting this year's issue in both Microsoft Reader eBook format and in .pdf for Mac users. Hope you'll download and take a look at these fabulous poets!
Available in ebook format only --
Download free below!
NOTE: Downloads may take several minutes. You might see a blank screen during the download, but if you can be patient, it will show up.