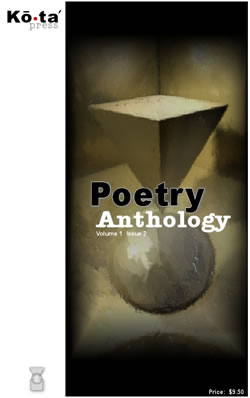 Published by KotaPress
Limited edition, copies still available
ISBN 1-929359-09-8
Price: $9.50

KotaPress Poetry Anthology
Volume 1, Issue 2
Contributing Authors: Ruth Daigon, Charles Fishman, Kevin Simmonds, Joseph Lisowski, and Allegra Wong

We proudly present the second issue of the KotaPress Poetry Anthology! This 142-page, perfect-bound book features the poetry and prose of five stunning authors. All of them tackle the difficult issues and leave us feeling hope for moving forward. You have got to check this out!
Limited edition, out of print after edition sells, copies still available for purchase!