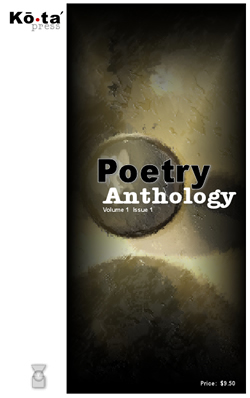 Published by KotaPress
Limited edition, copies still available
ISBN 1-929359-08-X
Price: $9.50

KotaPress Poetry Anthology
Volume 1, Issue 1
Contributing Authors: Nancy Talley, Sandra Chaplain Bailey, Carla Traylor Griswold, Tim Hulley, Marika Thompson, Dana Gerringer, and Heidi Sauer

KotaPress proudly presents the resulting book of the first ever KotaPress Anthology Contest! This 170-page, perfect-bound book features amazing works that cover topics from teen pregnancy, Breast Cancer survival, grief after the loss of a partner, to seeing a bully at a class reunion and so much more. Check it out!
Limited edition, out of print after edition is sold, some copies still available for purchase.