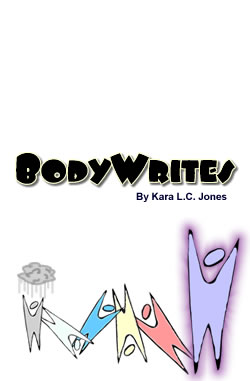 Offered by KotaPress
Class3, via email
Available immediately
Price: $40.00
BodyWrites!:
a one week online course

Facilitator: Kara L.C. Jones
"Knowing I could email you day or night for a week was like having a poetry therapist. It was very worth it for me...I would not have gotten near as much out of it had I not felt that you were there at the other end of this cyberline. If I read the exercises in a book or even on your website, I may not have felt as much need to actually do them."
-Carol Jo Horn, Poet & Founder of CJ Ink
This one on one workshop helps you discover what everyBODY knows: Our 5 senses are the best writing guides we have. Through sense writing, you will find the empowerment you want for your writing! Regardless of the genre in which you write, you'll learn how to cure even the worst writer's block and how to enhance your best work ever.
(course outline offered below)
Openings Now Available!
"I printed [the assignments] out and took them with me. A traveling class! The class was a very flexible...I got a better view of myself as a person. I blossomed as I wrote. The class was a real self discovery as well as a spring board to writing, a medium I had be so afraid of prior to this class and meeting Kara at MISS in May. The words just flowed, something very new for me!...I write with confidence now, even in business correspondence. Thank you! I look much deeper at things because my mind allows free thoughts to explore in ways that were unknown before the class. Words have a creative, exploring nature now. More free thoughts have occured because of this."
-Laura Curtis
Bereaved SIDS parent and SWA Group Associate
Course Outline
Day 1: Introduction
Day 1: Write/Right Where You Are
Day 1: Where Have You Been
Day 2: Make Sense of Age
Day 2: Self Talk and the Results
Day 3: Alliteration of the Body
Day 3: Your Poetic Resume + exercises
Day 4: Familiar Sensations
Day 4: When Music Moves You
Day 5: Wisdom of the Body
Day 5: Surprises of the Aging Process
Day 6: Familial Identification
Day 6: The Space Inside
Day 7: Closing re-Writing/Right Where You Are
Students will receive email once a day as outlined in the above details. Students are free to email questions to facilitator at any time throughout the week. Facilitator will answer questions within 24 to 48 hours. Upon completion of the class, a certificate will be sent you to mark your participation.
Facilitator Bio
Kara L.C. Jones is a poet and artist living in the Seattle area. She has been widely published in literary journals all over the world. Because she would not submit her grief-writings about the loss of her son to an outside publisher, she and her husband Hawk started KotaPress in 1999 as an outreach to other grieving parents, as a place where verse is healing therapy, as a safe space for grieving through your art. She has been facilitating workshops for 7 years including Creative Writing, Poetry Workshop, Self Publishing Made Easy, Expanding Poetry, and BodyWrites!, all of which have been offered in various areas around the U.S. and in settings such as the Washington State Poets Conferences and MISS Foundation Passages Conferences.